NCAA DIVISION I WOMEN'S CHAMPIONSHIPS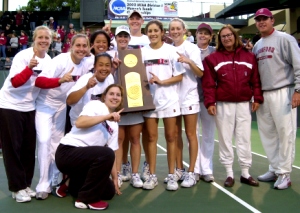 Though the Stanford women had a lot to celebrate with both team and doubles victories, it was Bea Bielik who broke all the records with her Singles Championship.
There was no predicting this year's NCAA Championship team. The rankings alternated all season between Georgia, Florida and Stanford and in the finals it came down to the latter two. It was Stanford who pulled out the win, 4-1, for their second straight Championship. Coach Lele Forood, who is only in her second year as Head Coach, took home a 12th title for the Cardinals.
Junior Bea Bielik (left) became the first Wake Forest player and the first Long Islander (though born in Hungary, she was raised in Valley Stream, New York) to win the NCAA Women's Singles Championship. Along the way she also broke the record (set by Laura Granville during last year's event) by losing a total of only 21 games on her road to the title. Fatigue from playing 18 matches in 10 days finally overcame Florida senior Jessica Lehnhoff as she fell in the final, 6-2,6-0, in just 51 minutes. Despite the loss, Jessica had an outstanding college tennis career which included the NCAA Doubles win last year (with Whitney Deason).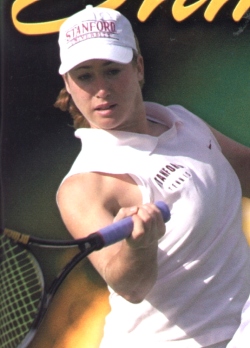 In addition to the team event, Stanford took the doubles trophy when seniors Lauren Kalvaria (left) and Gabriela Lastra (right) defeated Megan Bradley and Lauren Fisher of UCLA, 6-2,6-3. It was the first NCAA Doubles Championship for Stanford since 1990. Another Stanford standout during the tournament was freshman Erin Burdette who was a semifinalist in singles and doubles, as well as helping her team to their team crown. In the semifinals doubles match, Erin was on opposite sides of the court from Megan Bradley, her former doubles partner.
---