Thursday, May 17, 2007-Day One
Men's Team Round of 16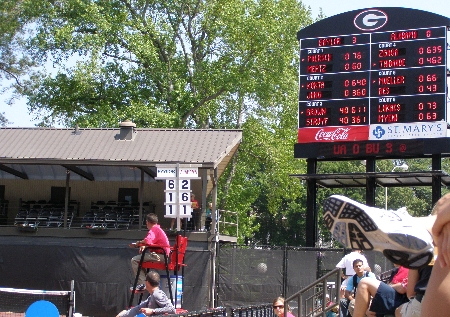 The weather couldn't be any more perfect as the tennis is the hottest thing in Athens, Georgia, for the beginning of the NCAA Division I Championships.
I had a bit of a rough trip here (from now on I get my directions and check them at least twice), but everything was sunny when I did finally arrive at the University of Georgia. As predicted the men's draw is full of great matchups and I only wish it was possible to see it all today. I had to narrow it down, especially since I'm still recovering from travel-lag. I was drawn to the Baylor-Alabama match. Billy Pate has just done an incredible job with the Crimson Tide this year. Their 4-0 loss to Baylor today should not be discounted from that. From Billy Mertz pushing Lars Poerschke to a tiebreaker to Joseph Jung taking a set off Michal Kokta, Alabama proved that they belonged in the final 16.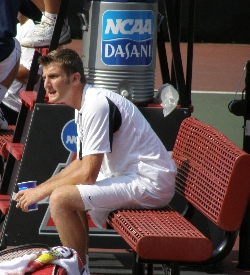 I didn't cover any of the noon matches and sat back down with camera and pen for Wake Forest-Virginia. This was another match that the 4-1 Virginia win didn't begin to tell the story of. The first court was just a battle that unfortunately never got to finish as two of the country's finest when at it -- Somdev Devvarman & Todd Paul. The first set culminated in a thrilling tiebreaker with Wake's Todd squeaking by 10-8, but he lost the second on only one break only to have it abandoned at 6-5 in the third. In fact, all but one court (Dominic Inglot/Virginia over Andrew Hamar/Wake Forest, 6-2,6-3) went to a third set so even though Virginia won 4-1 overall, it could have been anyone's match.
At the end of the day, Thursday's matches seemed to all be full of surprises. While I did expect them to win, I thought the Georgia-Florida match would be closer than the 4-0 hometeam win that accurately describes the match. I wouldn't call No. 9 UCLA over No. 8 Oklahoma State an upset, though that score was also 4-0. It was down to the wire as No. 12 Southern California took out No. 5 Notre Dame, 4-3, with the real upset being unseeded North Carolina State over No. 11 Texas. And it was a quick and easy shutout for second-seeded Ohio State over No. 15 LSU.
The match that I didn't cover today that was by far the match of the day (what more can you say about a 3-3 team tie left with only a 6-7,7-6 match on the court?!) was No. 10 Illinois beating No. 7 Ole Miss. For an unbiased report of Illinois' spectacular defeat of Mississippi, check out Zoo Tennis. There are also some excellent videos on Georgia's Official NCAA site.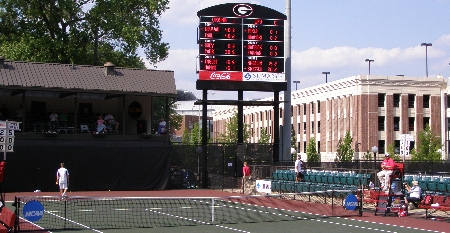 Friday is all about the women in Athens and I'm sure they are going to be just as unpredictable as the men. I can't wait to see it for myself.

Until tomorrow,
Marcia Frost

above right, Cory Parr

click on a photo to enlarge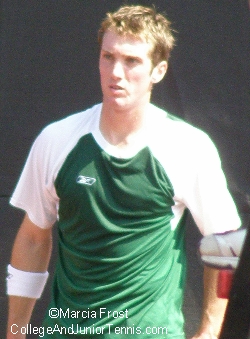 Sammy Struyf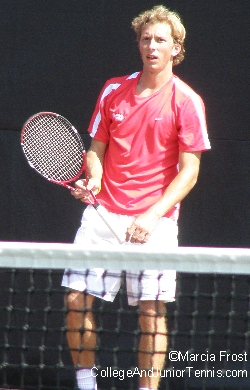 Matt Brown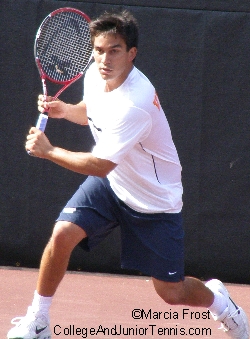 Treat Huey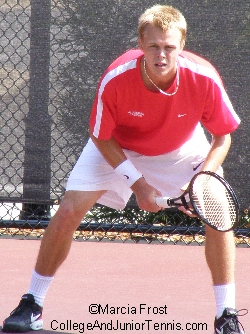 Matija Zgaga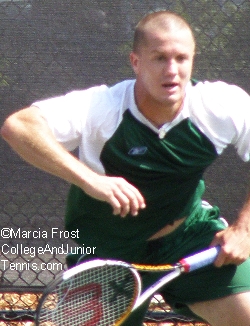 Mathieu Thibaudeau
Create an Amazon Wedding Registry
Monthly Guides to
College Tennis Planning
Available in Kindle & Print
Create an Amazon Wedding Registry
Return to:
College And Junior
Tennis Homepage