Thursday, May 24, 2007-Day Eight
Singles & Doubles, Round of 32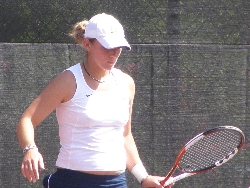 Top seeds began to drop as play continued in the individual events at the NCAA Division I Championships.
Among those falling today was defending champion Susie Babos of California (left) in straight sets to freshman Lindsay Burdette of Stanford, 6-4,6-4. It was a good match, but not quite what Lindsay's teammate Theresa Logar experienced. Another freshman, Catherine Newman (below, right) of Vanderbilt, put Theresa to the test for hours on center court through long points, games and sets. It didn't seem that either would give up through the grueling match, but Catherine finally fell, 6-7,6-2,7-6. There was one more major upset among the women as No. 8 Megan Moulton-Levy gave up a tough one to UCLA's Tracy Lin, 7-5,4-6,6-3. I caught some of that one, an amazing display of two players who seemed to get to everything.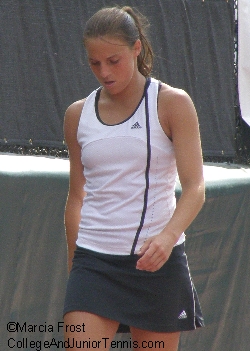 The men's draw was not without its upsets either. Alpha-seed Ivan Puchkarov lost to Daniel Vallverdu (Miami) and seventh-seeded Stephen Bass' sprained ankle got the best of him under Washington's Alex Slovic. Also not making it into the round of 16 was Erling Tveit. Sixth-seeded Arnau Bruges survived a tough challenge (that I enjoyed watching) over Ohio State's Devin Mullings, 6-4,4-6,6-3.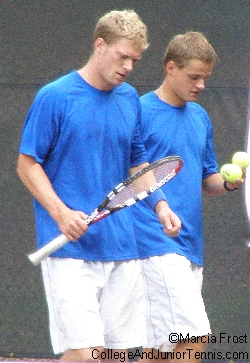 It was the end of an incredible year for the Boise State men. Injury forced remaining Bronco Luke Shields to retire from his singles match and he couldn't work through the pain in doubles either as he and Piotr Dilaj fell.
Another day of sunshine (there seems to be no shortage of that around here) and the University of Georgia will welcome more first class tennis on Friday.
Until Tomorrow,
Marcia Frost
click on a photo to enlarge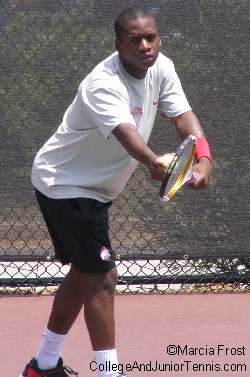 Devin Mullings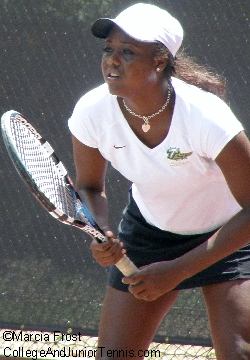 Shadisha Robinson
Alexis Prousis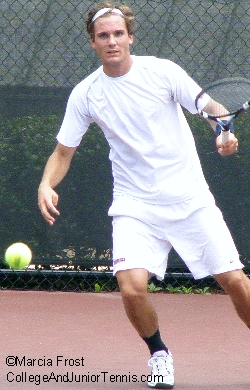 Erling Tveit
Elliott Wronski
Audrey Banada
Amanda Fish
Create an Amazon Wedding Registry
Monthly Guides to
College Tennis Planning
Available in Kindle & Print
Return to:
College And Junior
Tennis Homepage