Friday, May 25, 2007-Day Nine
Singles & Doubles, Round of 16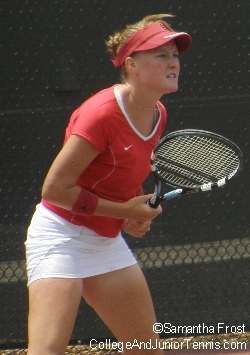 Another day, another exciting Theresa Logar match. This one had a different result, though, as the crowd rallied and the top dog prevailed.
It was a thrilling battle on Court 1 as Georgia's Natalie Frazier was pushed to the limit by the ever-determined Theresa Logar of Stanford (right). After breezing through a first set shut out, the alpha-seeded Cardinal came back to take the second 7-5 and then the real fun began. The crowd of Georgia fans got behind her, screaming as she survived three match points at 4-5, only to come back and push it to a tiebreaker. It took Natalie three match points of her own, but she won the breaker at 8-6.
It seemed as if the women were determined to be the ones to watch Friday. And most of them were from Stanford. Top-seeded Audra Cohen was also up against a Cardinal with Celia Durkin taking the first set (6-3) and then winning the next four games. Down 4-0, Audra used a bathroom break to pull herself back together and she did it in dramatic fashion, winning the next four games, and six of the next eight. The Hurricane walked away with a 3-6,6-4,6-2 win.
Also battling through the women's singles was No. 3 Kristi Miller, who just got past Nina Henkel, 6-2,2-6,6-3. Northwestern's Georgia Rose (9-16) was today's Lindsay Burdette victim as the Stanford freshman tookout another, 7-6(5),2-6,6-4, though there was a moment at the beginning of the third when I thought Georgia was ready to take it. The last women's upset of the day was former NCAA champion (2005) Zuzana Zemenova of Baylor's win over Melanie Gloria (3).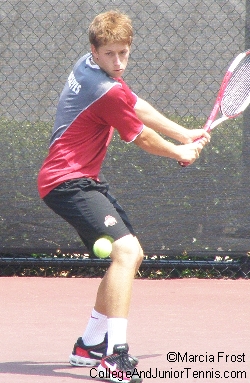 The women were making themselves noticed in doubles too. Notre Dame's Thompson twins took out No. 5 Susie Babos & Zsuzana Fodor of Cal in dramatic fashion -- 5-7,6-2,6-4. In men's doubles, defending champions Kevin Anderson & Ryan Rowe of Illinois were pushed by the Florida State duo of Sam Chang & Jonathan Sucupira, but got by 6-2,5-7,6-2. Kevin is also alive and well in the singles as he today eliminated Florida's Greg Oulette, 6-4,6-2.
Georgia's John Isner, who has already broken the school's record of all-time wins, had a tough one today with LSU's Ken Skupski. It was a crowd-pleasing tiebreaker in the first followed by a close 7-5 in the second before his win while, on the court next door, Jesse Levine kept his undefeated streak going despite losing a break to Luis Flores in the second. Unseeded Bryan Koniecko (left), who has had a great run, finally met his match and fell to No. 8 Luigi D'Agord, 6-2,6-3.
I expect the quarterfinals to play out Saturday to a great crowd and I'll be there to catch it all.
Until Tomorrow,
Marcia Frost
click on a photo to enlarge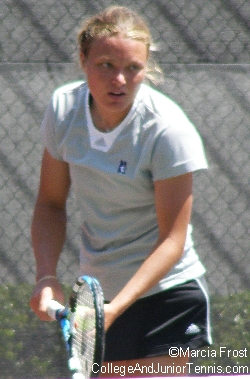 Georgia Rose
Greg Ouelette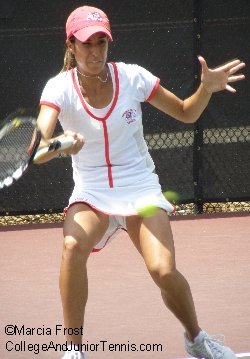 Melanie Gloria
Create an Amazon Wedding Registry
Monthly Guides to
College Tennis Planning
Available in Kindle & Print
Return to:
College And Junior
Tennis Homepage