Saturday, May 26, 2007-Day Ten
Singles & Doubles, Quarterfinals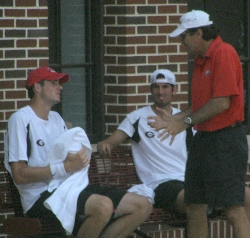 The dogs fell, the undefeated were no more and the twins left college tennis, all during yet another sunny day at the NCAA Division I Championships.
As the temperatures climbed closer to 90 and the humidity increased with it, there were some unexpected results in Athens, Georgia. It had been a perfect year for Jesse Levine at the University of Florida, but today the freshman lost his first match. Alex Slovic wasn't even supposed to be here. The alternate from the University of Washington has made good use of his spot and today he took it a step further by eliminating third-seeded Jesse, 6-3,3-6,6-1. Alex's opponent is no surprise as top-seeded John Isner cruised past Steven Moneke of Ohio State. Unfortunately, the homecourt advantage did nothing in the afternoon as John and partner Luis Flores fell to the Wake Forest duo of Todd Paul & Mariusz Adamski in a close 7-5,7-5.
Last year's men's finalist Somdav Devvarman (2) of Virginia quickly dismissed No. 6 Arnau Brugues, 6-0,6-2, but it was not so easy for No. 4 Kevin Anderson. The Illini struggled a bit against Miami's Luigi D'Agord, even dropping the second set, but prevailed in the end. Kevin was also victorious with partner Ryan Rowe against the LSU duo of Danny Bryan & Colt Gaston (above), putting them one step closer to defending their title.

There were no real surprises on the women's side today. The University of Georgia lost another as No. 7 Natalie Frazier couldn't pull off another comeback today and was taken out by No. 2 Megan Falcon in straight sets. Unseeded Lindsay Burdette of Stanford was finally stopped by top-seeded Audra Cohen, leaving Stanford without a final at this tournament for the first time in 12 years. Yellow Jacket Kristi Miller, who helped lead her team to the title last week, finally ran out of buzz and succombed to last year's finalist, Lindsey Nelson, 6-3,6-3. The final quarter of the day was between unseeded Zuzana Zemenova and Tracy Lin, with the Zuzana prevailing in a three-set thriller, complete with second set tiebreaker.
The women's doubles followed seeding today with the number one team, Megan Moulton-Levy & Katarina Zoricic of William & Mary, over 5-8 Amanda Fish & Amanda Taylor of Vanderbilt (above). Also advancing were Ani Mijacika & Federica van Adrichem of Clemson, as well as fourth-seeded Ana Cetnik & Anna Sydorska of TCU.
The amateur career of Catrina & Christian Thompson came to a close today under the hands of second-seeded Sara Anundsen & Jenna Long of North Carolina. The twins were the only girls doubles team to win national junior titles on three surfaces (clay, hard & grass) and became Notre Dame's first national champions when they won the All-American. The graduates are now going to give the pro circuit a try.
It's hard to believe that there are only two days left of the NCAA Division I Championships. I said two weeks ago that I felt this field was wide open for lots of surprises and that prediction has held true. Now let's see what tomorrow will bring.
Until Tomorrow,
Marcia Frost
click on a photo to enlarge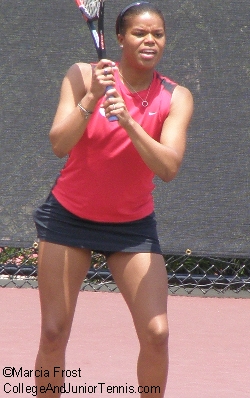 Natalie Frazier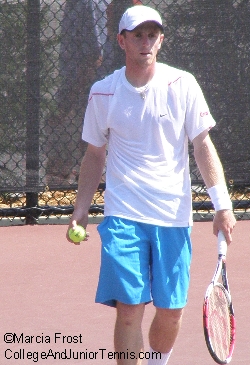 Jesse Levine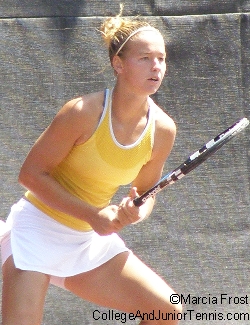 Kristi Miller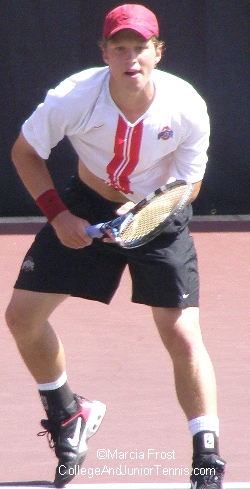 Steve Moneke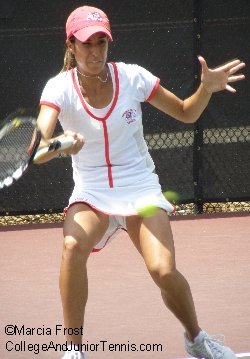 Melanie Gloria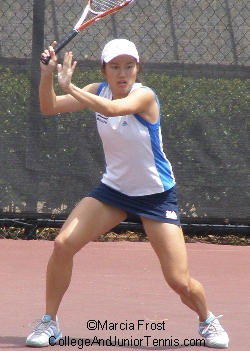 Tracy Lin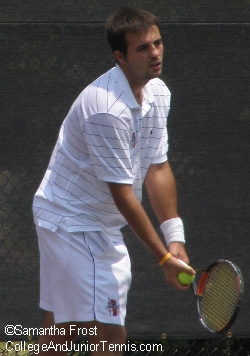 Arnau Brugues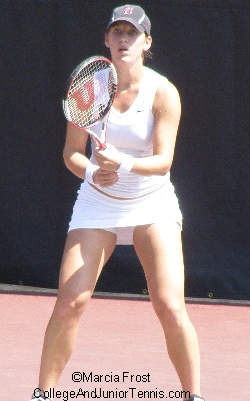 Lindsay Burdette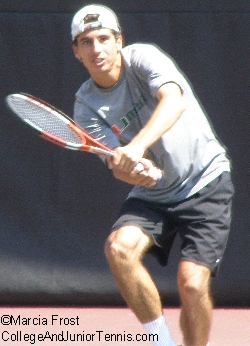 Luigi D'Agord
Create an Amazon Wedding Registry
Monthly Guides to
College Tennis Planning
Available in Kindle & Print
Create an Amazon Wedding Registry
Return to:
College And Junior
Tennis Homepage