Sunday, May 27, 2007-Day Eleven
Singles & Doubles, Semifinals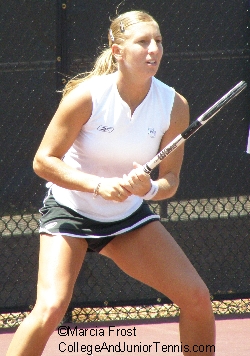 Déjà vu and something (or someone) new. It's all happening at the NCAA Division I Championships in Georgia.
The day began with a cloud of smoke. Although the wildfires were far away, the thick air in Athens was difficult enough for spectators and amazing to me how the athletes played through it. Perhaps it was the urge to get out of there, or maybe it was something she had been thinking about since losing in the 2005 NCAA Finals to this same opponent, but Audra Cohen wasted no time in defeating Zuzanna Zemenova (right). It was a stange match as every time I looked over it appeared that the Baylor junior was hitting winners, but the score certainly didn't reflect that and in about an hour top-seeded Audra had her place in the finals again.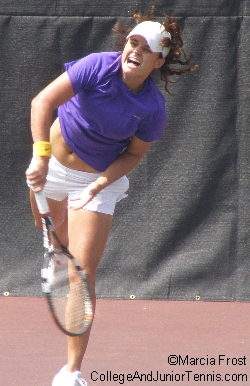 Although this is Audra's second NCAA final, it is her first for Miami. In 2005 the freshman was at Northwestern and she is now the only woman to play the finals under two different schools. Her opponent, Lindsey Nelson of Southern California, is also no stranger to the NCAAs. Last year's finalist (she lost to Susie Babos of California) had to struggle to earn her spot over the second-seeded Megan Falcon of LSU (left). The No. 4 Lindsey was actually down 3-0 to start, though the games were long, but came back to win the set in a tiebreaker. The second was much more hers at 6-2.
There was no comparison of men's and women's tennis today. The men's singles were very long, very tight matches with some incredible points and some of the fastest serves in tennis. It didn't go easy for top-seeded John Isner, but in the end the crowd of Bulldogs got their wish as one of their own will be going for the title.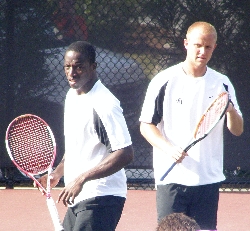 Washington's Alex Slovic was the surprise of the tournament as he ran through the draw. For awhile today it looked like he might do it again. He just got past John at 7-4 in a first set breaker. The next set was nearly as tight, with the Huskie going down, 6-4. In the third, John held his early break and, though it took four match points, he had his win.
The other semi was between No. 4 Kevin Anderson of Illinois vs. No. 2 Somdav Devvarman of Virginia. The latter was a finalist last year and was not about to give up on his chance to go a step further this year. Somdav kept up the pressure throughout and despite incredible serves and shots from Kevin, it was the higher seed who was just a little bit better out there. After three hours the match ended with Somdav's 7-6(3),5-7,6-3 victory.
The day was not all bad for Kevin Anderson. The Illini paired with Ryan Rowe to defeat Todd Paul & Mariusz Adamki of Wake Forest (above) and have an opportunity to defend their 2006 doubles title. Their opponents, Marco Born & Andreas Siljestrom of Middle Tennessee defeated Somdav & Treat Huey in the semis. It should be a very interesting match of hard-hitters and servers with Ryan as the smallest of the bunch -- at 6'5".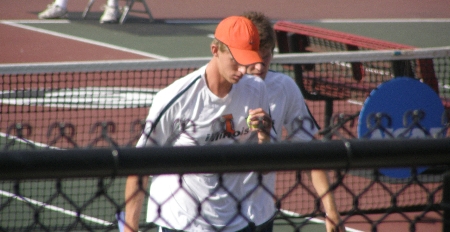 It will be the top two seeds in the women's doubles final. It may have taken seven match points to get there over Ani Mijacika & Federica van Adrichema, but Megan Moulton-Levy & Katarina Zoricic will be playing William & Mary's first doubles final. The second seeds, North Carolina's Sara Anundsen & Jenna Long also had a battle to overcome before they beat Ana Cetnik & Anna Sydorska of Clemson in three sets.
There's a lot to celebrate at the University of Georgia as the Bulldogs have a chance to get another title and there is a guarantee of some American champions on this Memorial Day.
Until Tomorrow,
Marcia Frost