Monday, May 26, 2008-Day Eleven
Women's & Men's Final Singles and Doubles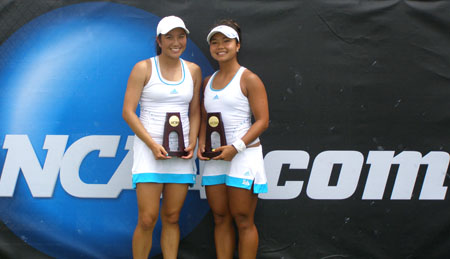 It's been a long two weeks here at the University of Tulsa, but the 2008 NCAA Division I Championships came to an end under the same sunny sky it began with. And though it was one of the more humid days, everything else turned out pretty much the way it was supposed to.
The doubles began the day and once again it was a good time for American doubles with seeding holding true to form. Women from the U.S. have been in every winning doubles team for the last 27 years and that didn't change today as the top-seeded UCLA duo of Riza Zalameda & Tracy Lin prevailed over the second-seeded Fresno State team of Tinesta Rowe & Melanie Gloria.
It wasn't quite so easy for the Bruins, who have played quite a bit of tennis here after winning the team event and then both making it through the first few rounds of singles. Though they began dominating the match and taking the first set 6-2, they lost the second 6-4 before coming back 6-3 in the third. It was a great display of doubles play from both teams that the crowd really enjoyed.
Yesterday the No. 2 seeds from the University of Southern California, Robert Farah & Kaes Van't Hoft, went three tiebreak sets with Ole Miss' Bram ten Berge & Matthias Wellerman. Today they faced that opponents teammates for a match that almost went that far. Jonas Berg & Erling Tveit, seeded fourth, put up the same fight, pushing the Southern Cal men to eight set points before succombing 7-6(10) in the first.
After another set of powerful serve and volley that had one break -- and one break back -- it was into another tiebreaker. This time, however, Kaes & Robert were determined to end it and did so on their first match point.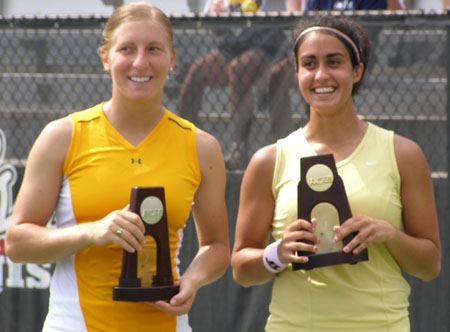 It was the doubles that again today provided the most match challenge. In Georgia Tech's first women's final, Amanda McDowell was in command over unseeded former champ Zuzanna Zemenova of Baylor. The bear looked a bit tired and, though there were some good points, the heat and humidity seemed to take the pep out of both players.
It was a 6-2 first set and the second had a bit more challenge form Zuzanna, but Amanda prevailed and even though there was no team trophy this year, left with an individual crown.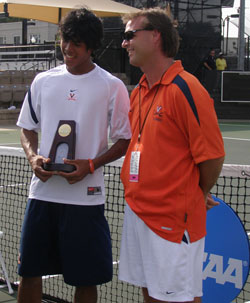 Georgia's Matias Boeker (2000, '01) was the last player to win back-to-back NCAA Men's Singles Championships -- until today.
Somdev Devvarman, who was also a finalist in the 2006 event, took home his second consecutive trophy with a 6-3,6-2 defeat of unseeded J.P. Smith of Tennessee. It may have been a quick win, but the crowd enjoyed some great points (and powerful aces) as the Aussie freshman went down swinging.
I have to admit that I am glad I didn't make any NCAA Championship predictions this year because I probably would have lost. It was an unpredictable year that produced champions from a whole host of schools.
The only multiple winners were Tracy Lin & Riza Zalameda, who took home the doubles trophy to go with their team one. But, with their graduation as well as that of Somdev Devvarman and the winning Southern Cal doubles team, it opens up a whole new world of college tennis for next year. And I can't wait to see it.
Until next year,
Marcia Frost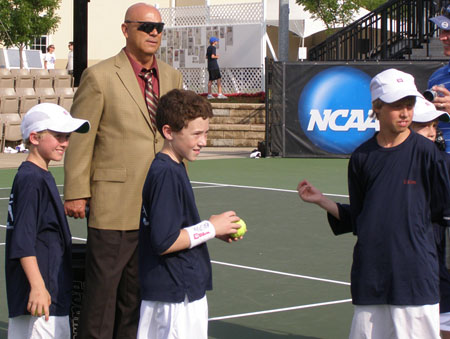 Wayne Bryan, who was at the University of Tulsa commentating for the Tennis Channel with Cindy Shmerler, took some time to chat with the ballboys. The Tennis Channel will air the finals on June 9th.
For Additional NCAA Stories & Photos, check out:
Zoo Tennis
Tennis Magazine's College Section and the Official NCAA Division I Championship Site