Thursday, May 15, 2008-Day One
Women's Team Round of 16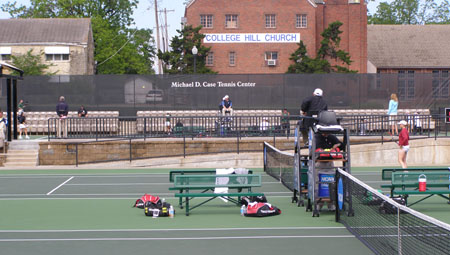 Day one of the 2008 NCAA Division I Championships began under a cloud of rain, but the weather forecast for the rest of the week is beautiful for the best in college tennis to showcase their talents at the University of Tulsa.
The short morning rain delay didn't damper anyone's spirits as everyone gathered for the women's team round of 16. It's going to be a long two weeks and I am going to try to cover as much as I can (it will get a bit easier when my assistant, Sam, joins me Sunday). I took a look at the schedule and did my best "guestimate" of what I thought would be the three best of the day's matches. I wasn't far off.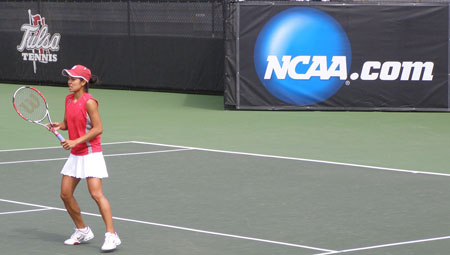 First up for me was No. 4 Stanford vs. No. 13 Clemson. Though the Cardinals have not been dominating the world of women's tennis the last two years as they had in the past decade, they certainly were today. It was quick and easy doubles, followed by leads on all courts. Carolyn McVeigh took the first singles over Laurianne Henry. Hilary Barte picked up her 19th win at No. 1, giving her a perfect record at that position. Lindsay Burdette took home the Stanford shutout with her win over Ina Hadziselimovic.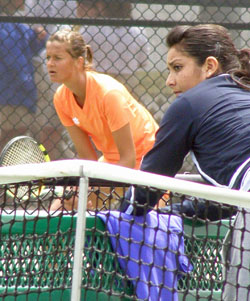 Also first up in the morning was No. 5 Baylor vs. No. 12 Miami. The higher seed prevailed, 4-1, in that one and that was the same score of the noon match of top seeded Northwestern over No. 16 Fresno State. I didn't see much of that as I was watching the very strange pairing of California (8) and Duke (9).
I picked Cal-Duke because I knew it would be a good one. It started out that way with close doubles to Duke, but than they took the momentum to a 3-1 lead. Just when I thought I had been wrong about it being a tight match, Cal's Claire Ilcinkas pulled it out in a third over Melissa Mang. Then all remaining players (and eyes in the stadium) focused on the first two courts. On them, Cal's Susie Babos had taken the first set (6-3) over Tara Iyer while teammate Marina Cossov was up one (7-5) over Ellah Nze. The second set seemed to progress simultaneously and before we all knew it, both were in tiebreakers. It was Marina who took the first breaker (7/4) to tie the match score at 3-3. As the Cal players and coaches cheered wildly, the Duke team remained silent (?). Tara Iyer saved two match points, but succombed in the third and the University of California had a 4-3 win.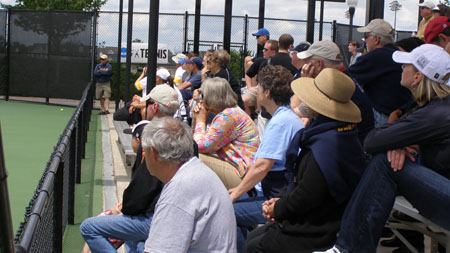 It was the afternoon match where I picked the wrong one to watch. Everyone had hyped the Pac-10 match up of UCLA-Southern California as the two tennis powerhouses always put on a good one when they get together. It wasn't quite the case today as UCLA took the doubles at three and two and a quick first singles as Yasmin Schnack took over Gabriela Niculescu. There was a bit of a wait before Andrea Remynse's win over Sara Fansler, but it was soon after that the 4-0 win was sealed by Alex McGoodwin's 6-4,6-0 win against Leyla Entekhabi, with a second set that was definitely not indicative of the score. There were lots of deuces and a first (there were three) match point that went on forever.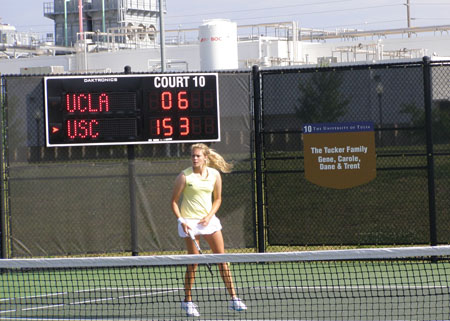 During the Pac-10 playoff, I missed unseeded Arkansas' upset over second-seeded Georgia. It was the first time the No. 2 seed lost in the round of 16 since the top 16 seeding was established 19 years ago. I also only saw a bit of Florida (6) 4, Vanderbilt (11), 4-1, and missed defending champion Georgia Tech's 4-2 over unseeded Texas, but I'll catch those two teams against each other on Saturday.
Friday will be the men's round of 16 in Tulsa and there are some exciting match ups coming. I'm anxious to see a rematch of the 2006 NCAA Championship final with Georgia (4) vs. Pepperdine (13). Pepperdine won the '06 contest, but Georgia is this year's defending champion. It will also be an interesting meeting between Illinois (15) and Ohio State (2) as the Buckeyes squeezed out the win in the last two, while the Illini upset them at last year's NCAA. There won't be any shortage of excitement around here!
Until tomorrow,
Marcia Frost
For Additional NCAA Stories & Photos, check out:
Zoo Tennis
and the Official NCAA Division I Championship Site