Friday, May 16, 2008-Day Two
Men's Team Round of 16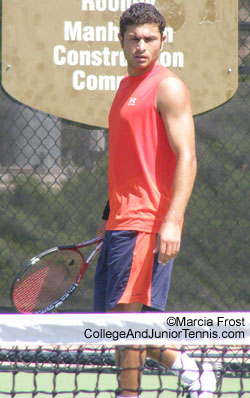 The scoreboard didn't begin to tell the story today as there were heartbreaking battles and only eight survived.
It was a bright, warm day as the best in men's college tennis came out for the round of 16 at the University of Tulsa. I again had to pick which matches to watch as the courts were spread near and far (at one point there were three matches being played all over the place -- a bit too much, in my opinion).
Though it turned out to be a competitive contest with No. 5 Ole Miss taking No. 12 North Carolina, 4-2, I opted instead to watch No. 4 Georgia vs. No. 13 Pepperdine.
At the 2006 NCAA Championships at Stanford, Pepperdine had taken the title in a closely contested final over Georgia. That's not the kind of thing you forget so, despite the fact that Pepperdine was down its top player (Andre Begemann had gone back to Germany last week upon learning of the death of his mother), the Bulldogs were still worried and came out with full racquets swinging, easily taking the doubles point and proceeding to straight set victories with one exception -- Bassam Beidas took the lone point for the Waves as the No. 1 singles replacement.
There were, however, two three-setters left standing as Jamie Hunt-Mahmoud Kamel (left) and Nate Schnugg-Omar Altmann were still battling when Christian Vitulli won the match for Georgia.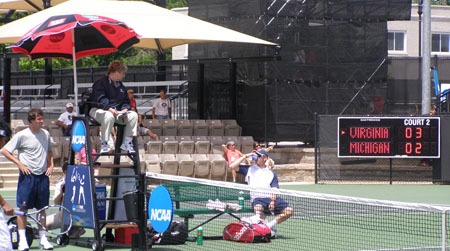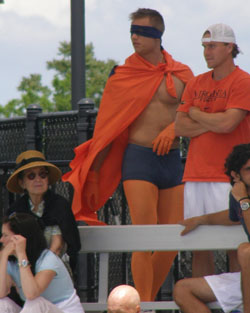 As the saying goes, don't make assumptions when you look at the scoreboard. That was certainly the case in Virginia's "shutout" of Michigan. The Cavaliers have had an undefeated season, and deservingly so, but it wasn't quick or easy for the Cavaliers Friday after the doubles point. Michigan, with former college tennis star Michael Russell (below) serving as the new volunteer assistant coach, was in there all the way.
The matches all ran close and even the top player in the country, Somdev Devvarman, had a battle on his hand as Matko Maravic left him standing without a win at 7-5,4-1. In fact, when Treat Huey took it with a 6-4,6-2 over Jason Jung, there were still two other three-setters going.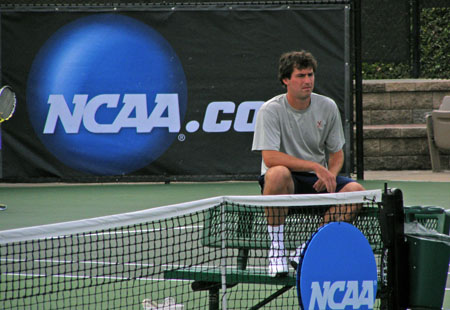 Also at noon, the Baylor Bears (9) took out Tennessee, 4-1. They were followed by another match that wasn't really shown by the score, No. 7 Texas vs. No. 10. Florida. Though Texas has a 4-0 score, the match had four three-setters -- three of which were left unfinished. I didn't see much of that because I wanted to make sure I didn't miss a second of Ohio State-Illinois, and the match certainly lived up to its hype.
There is a very long history between Big Ten rivals Ohio State and Illinois. Most recently, second-seeded Ohio State took the 15th-seeded Fighting Illini in third set tiebreakers at a 5-2 dual match and in the final match of a 4-3 Big Ten Championship final. Last year, Illinois was able to get revenge by knocking out the Buckeyes at the NCAAs and it almost looked like they would do the same today.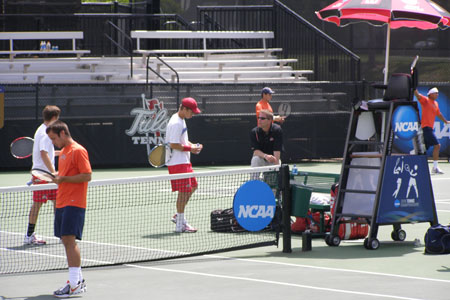 The Illini were fighting as they took the doubles point and then Billy Heiser quickly gave them a 2-0 lead as he dismissed Matt Allaire, but that was only the beginning of this grueling match that went for over four hours. At the top two positions, Bryan Koniecko and Steven Moneke were near perfect as they took out Ryan Rowe and Ruben Gonzales.
I saw quite a bit of the Bryan-Ryan match and it was close, going to six deuces at 3-2 Ohio State as Ryan Rowe tried desperately to break back, but Bryan Koniecko was just not letting up. With those losses and Roy Kalmanovich falling to Balazs Novak, it was suddenly 3-2 in the Buckeyes favor.
It wasn't long after Ohio State took the lead that Waylon Chin took command in the third set over Drew Eberly and evened up the score. It was once again -- just like at the Big Ten Championships -- down to Marc Spicijaric, but this match was a very different one, and not just because Justin Kronauge was another opponent.
The Buckeye had won the first set, 6-4, and the second was starting a tiebreaker when Justin was overuled for the fourth time and given a game penalty. In this case, the game penalty meant the tiebreaker and the second set to the Illini.
To say that the third set between Marc Spicijaric and Justin Kronauge was a battle would be the understatement of the year. The crowd grew larger and louder as both sides knew what was at stake. Trainers were called at one point for both players. Serving at 4-5, Marc saved two match points to go to 5-5. Before we knew it, there was another tiebreaker upon us and when a match point came again at 6-3, Ohio State had the victory.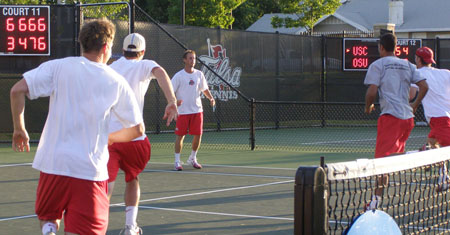 I tried to concentrate on the following matches, but it was very difficult to imagine anything could be more thrilling than what had previously been witnessed, though I certainly don't discredit the importance of UCLA's 4-0 win over Florida State or Southern California's 4-2 defeat of Oklahoma State.
We're back to the ladies on Saturday as the quarterfinals get underway. The matches are staggered with an hour in between so I'm expecting to see some of each. I'm also hoping for the return of name or position numbers on the scoreboard so I don't spend half my time trying to figure out who is on which court!
Until tomorrow,
Marcia Frost
For Additional NCAA Stories & Photos, check out:
Zoo Tennis
and the

ulsahurricane.cstv.com/sports/m-tennis/spec-rel/tuls-08-w-tennis-central.html" target="_blank">Official NCAA Division I Championship Site