Monday, May 19, 2008-Day Four
Women's & Men's Team Semifinals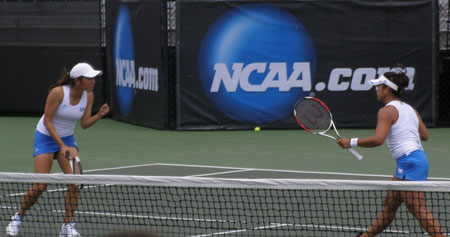 The surprises just won't end at the 2008 NCAA Division I Championship as some first-timers have earned their way into the final round.
By the end of Monday, there were a lot of people at the University of Tulsa who didn't expect to be there and a lot of us who were scrambling to check out the new finalists. After last year, when Illinois and UCLA made upset runs to the finals you would think that we would all be prepared for anything, but Cal and Texas as finalists was not in anyone's notes -- except for maybe respective coaches Amanda Augustus and Michael Center.
First year California coach Amanda Augustus is certainly no stranger to NCAA Championships. As a player for the Bears, she won two NCAA Doubles Championships (1988&89), but no Cal team has ever been in a women's team final. They will have their chance tomorrow.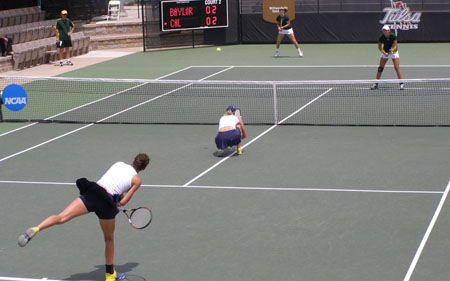 There was no doubt that Amanda Augustus has been passing off some of her doubles experience as Cal (whom the fans referred to as the real Bears since Baylor has the same nickname) took the doubles point easily. I was anxious to see the match up of the NCAA singles champions on court one as Zuzana Zemenova and Susie Babos were playing each other. It didn't quite live up to its hype as Baylor's Zuzana was the clear leader. She faced a bit of a challenge from Susie in the 7-5 first, but easily picked up the second, 6-1, giving Baylor its first point after Claire Ilcinkas had taken another for Cal.
It was not easy trying to watch two team matches -- which equals to 12 singles -- at once, so I didn't get to actually see as much as I'd like from any. The final two went three sets and it was Marina Cossou who gave the University of California it's first NCAA final when she defeated Taylor Ormond, 4-6,6-1,6-2. It also happened to be almost the same moment that UCLA sealed their victory.
The Florida-UCLA match was a bit different from the other semi. It was Florida who was the doubles favorite, having not lost a doubles point all season. It didn't work that way this time as even Anastasia Revina & Julia Cohen, a team who had won 21 matches since January, lost to the Bruins. Armed with that first point, UCLA continued the momentum as Riza Zalameda took out Julia in the first singles. Megan Alexander put Florida on the board with a win over Yasmin Schnack, and Anastasia Revzina took another one for the Gators. The score was at 2-2.
In the No. 4 position, Andrea Remynse put UCLA ahead and ended senior Whitney Benik's college career at 99 wins. It was all finished for the Bruins by Elizabeth Lumpkin, in a marathon game that went to six match points before she took it over Marrit Boonstra. UCLA will be playing their sixth final and are looking for their first win. I'm told there may be yet another surprise in their cheering section on Tuesday.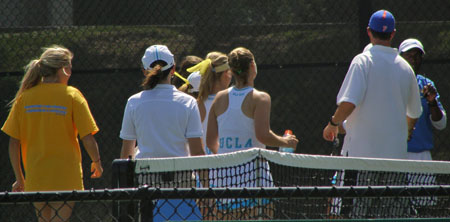 There wasn't much time to recover from the women's excitement before the men hit the stage. Undefeated top-seeded Virginia was taking on fourth-seeded defending champion Georgia, sure to be a close one, and former NCAA champion and third-seeded UCLA was facing No. 7 Texas, who had never seen a championship final. The odds were certainly favoring a Virginia-UCLA final on Tuesday, but this is the game of tennis and anything can happen. And it did.
Virginia-Georgia absolutely lived up to its expectations. The doubles point was a wild ride as the teams split wins, couldn't get (many) match points, and the Cavaliers just barely got the point. It was definitely a sign of things to come as four of the six singles went to three sets and the other two were only decided by one break.
Somdev Devvarman, the defending NCAA singles champ, had quite a battle on his hands with Georgia's Travis Helgeson. I don't think he quite expected Travis' fight in the first as he dropped it 6-2, but he came back for the second and his win in the third kept Virginia alive after they had lost three straight singles matches, with Ted Angelinos bringing them up to 3-2. It all came down to No. 4, however, it was not the final match that everyone wanted. As the huge crowd (there were over 1,000 spectators Monday) gathered around Bulldog Jamie Hunt he claimed the victory over Sanam Singh, but it was in a 6-0 set as he was cramping too much to bring Virginia to their first title match. The celebration was somber and Jamie hugged his opponent at the net.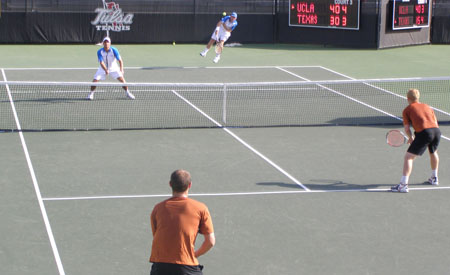 Just before the Georgia Bulldogs earned a chance to defend their title, UCLA lost their chance for a second. It was an unexpected turn of events that brought this Texas team to the semifinals as they first upset their way past No. 2 Ohio State. No one expected the No. 7 team to do the same over the third-seeded Bruins. In fact, the press room was already putting out releases on the last time there was a school who had teams in the men's and women's final (UCLA, 2004). It seemed a likely scenario as UCLA had an 8-0 record over Texas.
There was certainly great matches everywhere, but I kept coming back to the top two positions. It was on those side by side courts that Holden Seguso-Kellen Damico traded leads and incredible points while Harel Srugo-Dimitar Kutrovsky exchanged power. It was a dangerous place to sit, in front of those two, but it was where it was decided. With a 3-2 lead, it all came down to the top courts and some of the best in the country. It was Longhorn Dimitar that won it for Texas' first trip to the finals and the other match was left standing at 2-2 in the third.
It is anyone's guess what may happen next at the University of Tulsa as this is the NCAA Championship of surprises, but you can be sure I will be there watching
Until tomorrow,
Marcia Frost
Photos above by Samantha Frost
For Additional NCAA Stories & Photos, check out:
Zoo Tennis
and the Official NCAA Division I Championship Site