Tuesday, May 20, 2008-Day Five
Women's & Men's Team Finals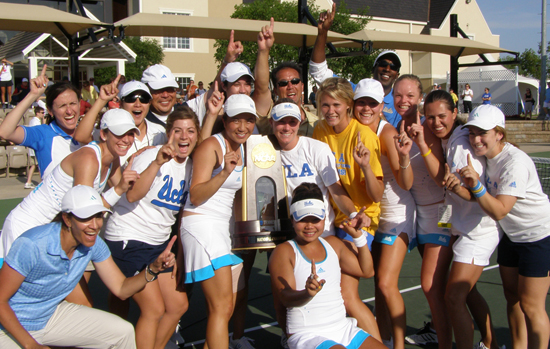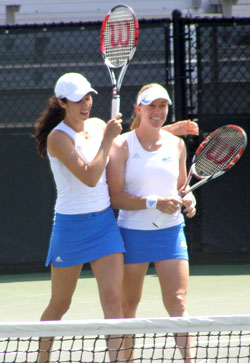 It was something old, and something new, as the Bruins took their first and the Bulldogs repeated at the 2008 NCAA Division I Team Championships.
Six times was the charm for Stella Sampras Webster's girls. It helped that they had behind them a team that already had experience in an NCAA final, as all of last year's second place group returned. "This team never stopped believing in themselves. They knew they were the team to beat," said the coach, in her 12th year.
It certainly didn't ever look like it was going to be a shutout score for the No. 7 Bruins and the No. 8 Bears. There were some great doubles on all courts as the teams split the second and third before Alex McGoodwin & Yasmin Schnack defeated Bojana Bobusic & Cristina Visico, 8-6, to give their team the doubles. From there it was a split of first sets in singles, but the second point came quickly for yesterday's last finisher, Alex McGoodwin. It took a little while for Andrea Remynse to finish off Claire Ilcinkas, as the match included a tough tiebreaker in the first and, just as she was going to close it out at 5-0 in the second, a medical timeout for an ear problem. Andrea did get her bearings, though, and finished it at 6-2.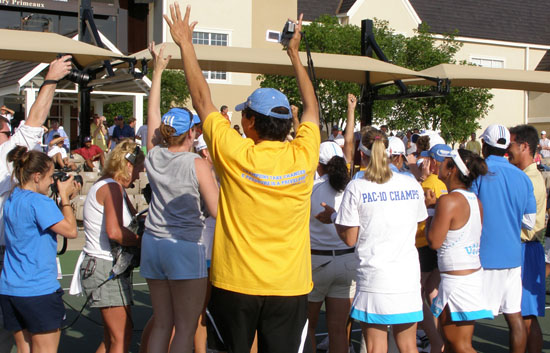 Despite a 3-0 lead, it wasn't so simple for UCLA to close it. Their remaining courts were in third sets, with the exception of the battle between Tracy Lin vs. Marina Cossou, which had gone from a tiebreaker to a tight second set. It was in the No. 1 position where Riza Zalameda sealed it with a win over Susie Babos and earned her tournament MVP status.
The road to the trophy ceremony was much tougher for the Georgia Bulldogs this year, but in the end they still arrived. There were some grueling matches before today and this final was no different. Texas proved they deserved their place here and put up quite a fight, taking the doubles point and then going the distance in half the matches.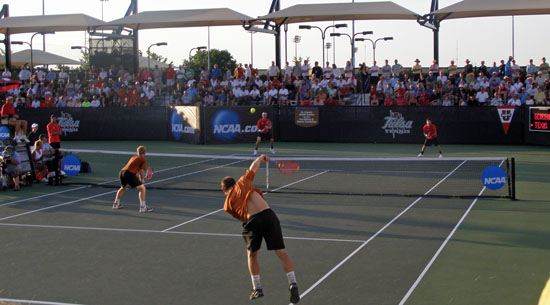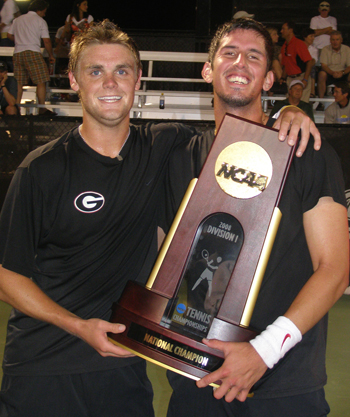 It all started with a match of champions. Georgia's Nate Schnugg & Jamie Hunt have been playing together a long time, winning the U.S. Open Junior Doubles Championships before teaming in college. However, Nate Schnugg won a Junior Wimbledon doubles crown, as well as a trophy at the Nationals at Kalamazoo with Kellen Damico. On Tuesday, Nate was set to face former partner Kellen in doubles and singles. It was Kellen who had the lead with partner Ed Corrie up to 4-1, when Nate & Jamie came back into it and the crowd was treated to (literally) Grand Slam quality doubles. That match was actually left at 8-7 for the Bulldogs, though, because Texas claimed the bottom two. In singles, tournament MVP Nate Schnugg did claim the victory over his cramping friend, whom he hugged at the net.
Before Nate Schnugg claimed the first Georgia victory Texas was actually ahead 2-0. The Bulldogs then took four in a row. In a major twist of irony, the Georgia victory was clinched by former Texas Longhorn Travis Helgeson, who had transferred to the Bulldogs after his first year, when he was able to muster up enough energy to beat Dimitar Kurtovsky, 4-6,6-2,6-3.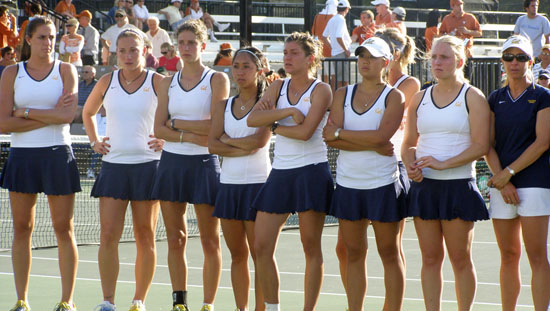 In the case of the case of this year's team event, the ending wasn't as surprising as the matches. There were 32 incredible teams giving their all to this competition and it was all a great display of college tennis. I won't be so surprised in the future to see California and/or Texas make it all the way through.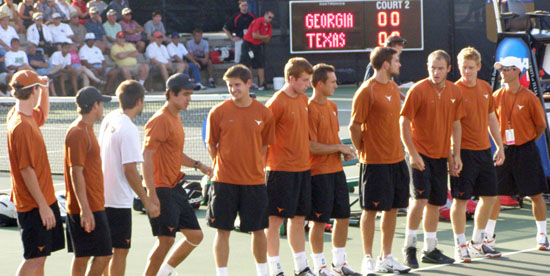 The individual competition begins on Wednesday at the University of Tulsa with 128 men and women competing for the coveted NCAA Singles Championship (doubles doesn't start until Thursday). Fortunately, the near 100 degree temperature has given way to a glorious 80-85 over the next few days as we see what other new talent emerges.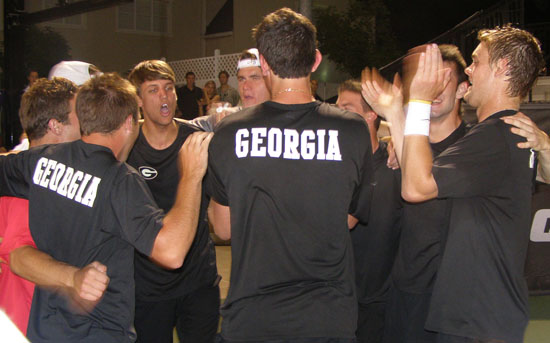 Until tomorrow,
Marcia Frost
For Additional NCAA Stories & Photos, check out:
Zoo Tennis
and the Official NCAA Division I Championship Site