Wednesday, May 21, 2008-Day Six
Women's & Men's First Round Singles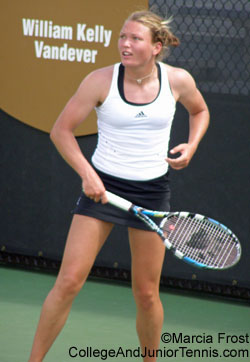 There were upsets and celebrations as day one of the 2008 NCAA Singles Championship got underway.
With 64 matches played, it is impossible to follow them all, so I just watched a bit of everything today as the individuals began.
As is often the case, many of the players who made it to the later rounds of the team events were a bit worn and fell in their matches. There were also a number of matches that I find hard to term "upsets."
Two such was Lindsey Nelson's 6-3,6-4 victory over Megan Falcon of LSU. Considering Lindsey has been a finalist here the last two years and was only unseeded because she missed a good part of the season, I wouldn't term the Southern Cal player's win as surprising. It was a similar situation with former NCAA champion Zuzanna Zemenova of Baylor's 6-4,6-1 win over No. 5 Marina Cossou of Cal.
Also falling on day one in the women's draw were alpha-seeded Jessica Nguyen of Stanford and Georgia Rose (pictured left) of Northwestern, to Miami's Lauren Vallverdu and UCLA's Tracy Lin respectively. Seventh-seeded Amanda McDowell of Georgia Tech survived a close one over Amanda Taylor of Vanderbilt, 1-6,7-6(2),6-1.
On the men's side, Justin Kronauge of Ohio State defeated Dominic Inglot of Virginia (9-16) in a tough three-setter and Ruben Gonzales was victorious over tournament MVP (and 9-16 seed) Nate Schnugg.
The highest seed of the day to fall was No. 2 Greg Ouelette of Florida, who lost to Southern Cal's Kaes Van't Hof. It was a tough first round for Stanford's Alex Clayton, the eighth seed, who did eventually down Martin Sayer of Radford, 4-6,6-4,6-4.
Three fellow Long Islander's who I've watched since they were in the 12s had a rough time on the court today. Cory Parr of Wake Forest put up quite a battle before dropping to Andre Begemann of Pepperdine, 6-2,6-7(5),6-4. Katie Rybacova, a freshman at Florida State lost to Gabriela Niculescu of Southern Cal, but Ohio State's Bryan Koniecko managed to pull it out in the third over Robby Poole.
I left the tournament a bit early Wednesday to attend the ITA Hall of Fame Banquet. This year's inductees are all incredible representatives of former college tennis players who went on to great success. Congratulations to Steven Denton, David DiLucia, Tom Jacobs, Don Johnson, Jerry Noyce, Jim Pugh, Rob Weiss, Chris Woodroff and someone I know well, Patrick McEnroe.
Captain McEnroe was also congratulated by many for the Davis Cup trophy he brought home this past December as well as his new General Manager of USTA Elite Player Development.
It's back to the matches for me on Thursday as the singles head into round two and the doubles begin.
Until tomorrow,
Marcia Frost
For Additional NCAA Stories & Photos, check out:
Zoo Tennis
and the Official NCAA Division I Championship Site