Thursday, May 22, 2008-Day Seven
Women's & Men's Second Round Singles and First Round Doubles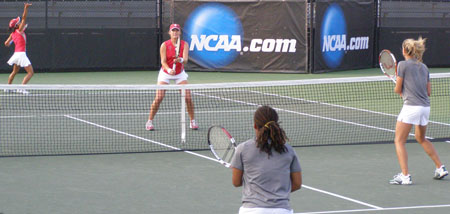 The matches seemed to last forever on Thursday as records were broken and the only thing that stayed the same was the perfect weather at the University of Tulsa.
There were no easy matches in the men's second round as half the matches were three-setters and the rest ran very close. Top-seeded Somdev Devvarman even struggled a bit with Clancy Shields of Boise State before he claimed the new NCAA Championships singles record of 14 wins (Matias Boeker, singles champion in 2000 & '01 was the previous record holder). Somdev's next matchup will be against Erling Tveit, the Ole Miss player who upset Rice's Bruno Rosa, 6-4,4-6,7-5.
Alpha-seeded Denes Lukas made it past Albert Larregola in a third-set tiebreaker, as was the case with Robert Farah. I saw most of the match with Robert and Illinois' Ryan Rowe and it was quite a thriller, ending with a 7-5 breaker for the Southern Californian. Ryan's teammate, Ruben Gonzales, also lost a difficult one that went the distance, to Enrique Olivares. Another spectacular match was Ohio State's Justin Kronauge and Jack Baker of South Alabama, which went to Justin after two tiebreakers and a 6-4 set. Meanwhile, his teammate Steven Moneke, pulled an upset over Ivan Bjelica (9-16) of Mississippi State, 6-4,6-3.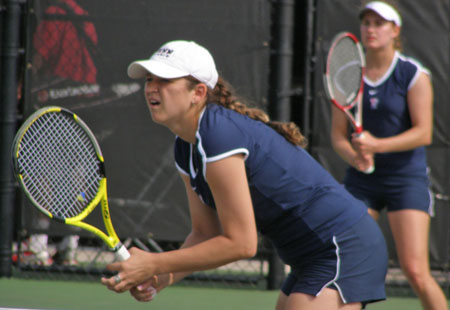 While there were no "quick and easy" matches, the women's singles was a bit more predictable than the men's. There were two seeds knocked out, though. Lenka Broosova's defeated ITA Rookie of the Year No. 3 Hilary Barte of Stanford in straight sets and Claire Ilcinkas of Cal eliminated Kristi Miller, the Georgia Tech senior who has collected more accolades of her own than anyone previously at that school. That was an exciting 6-7,6-0,4-6 match I got to see a bit of. I also watched Reka Zsilinszka-Lindsey Nelson go at it for more time than a 6-2,7-6(3) match should take. When Duke's Reka did take it, it was without the knowledge that she had been playing a two-time NCAA singles finalist.
There was another milestone reached today. Even though there was nothing spectacular in the play of Amanda Fink's 6-1,6-0 win over Lauren Lui of Northwestern, it gave the Southern Cal senior her 100th singles win.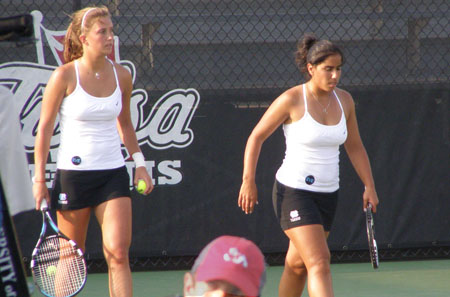 I am still in doubles-mode after the NCAA release of my new book, and I saw lots of great doubles today. It was a very interesting chain of event as players were all talking about the fact that it had been so long since they had played two sets as doubles play during college dual matches is done with eight-game pro sets. But, the best doubles came out as the vast majority of the teams went three sets.
Ohio State not only has quite a presence left in singles, but they advanced two doubles teams today as Bryan Koniecko/Steven Moneke and Drew Eberly/Justin Kronauge were winners. The latter match went to 1-6,7-6(6),7-6(5) as they eliminated Kaden Hensel/J.P. Smith of Tennessee (5-8). Also falling were Nate Schnugg & Jamie Hunt, who played quite a lot of tennis at the beginning of these championships and look like they may be a bit worn out when facing the Shields brothers. I saw a great matchup between Billy Heiser/Ryan Rowe of Illinois and James Cluskey/Michael Venus of LSU. It ended in the favor of the Illini duo, 2-6,6-3,6-4. Ryan has already been a two-time NCAA doubles finalist (with Kevin Anderson), winning in 2006.
The women's doubles was no less exciting than the men. In fact it was a women's match that drew one of the biggest crowds since the individuals began. Those fans were all watching and cheering on Brook Buck/Kelcy Tefft of Notre Dame and Bianca Dulgheru/Sylvia Kosakowski of Pepperdine. The third-seeded Fighting Irish team squeaked by, 4-6,6-3,6-4. Also taking a great doubles match was second-seeded Melanie Gloria/Tinesta Rowe of Fresno State over Sophie Grabinski/Sanaz Marand of North Carolina, 6-3,5-7,6-4. The only seeded women's doubles team that didn't survive was Lenka Broosova/Zuzana Zemenova.
There will be lots more matches at the 2008 NCAA Championships Friday as those with newly earned All American status will be on the court.
Until tomorrow,
Marcia Frost
For Additional NCAA Stories & Photos, check out:
Zoo Tennis
and the Official NCAA Division I Championship Site
click on a photo to enlarge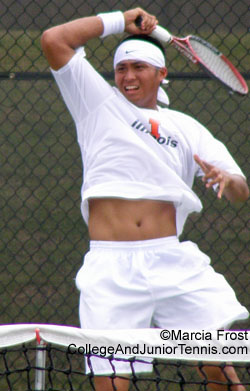 Ruben Gonzales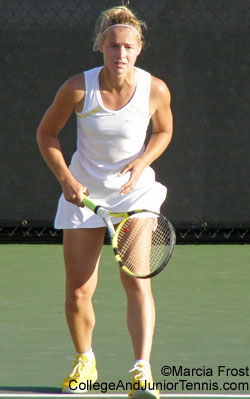 Kristi Miller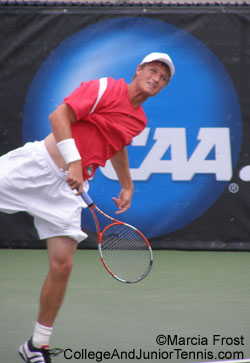 Martin Sayer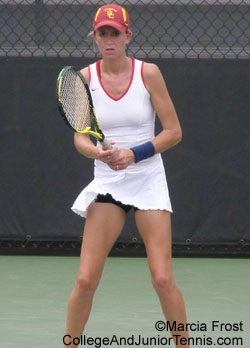 Lindsey Nelson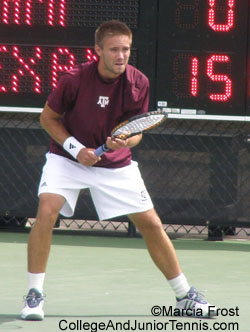 Conor Pollock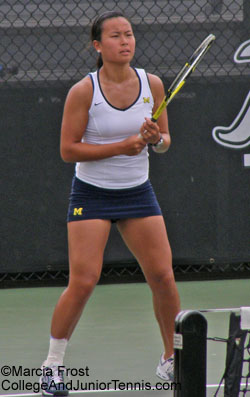 Chisako Sugiyama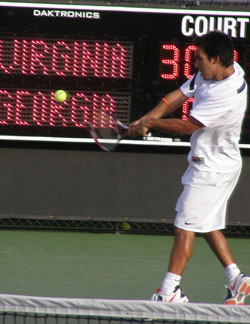 Treat Huey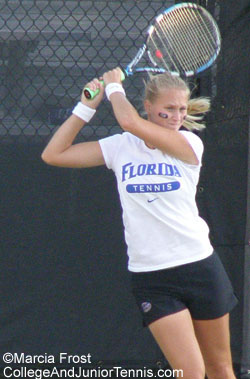 Csilla Borsanyi
We search millions of flight and hotel combinations, to get the best deals. Yes! Getaways makes booking your next vacation as easy as it can get - BOOK TODAY at Yesgetaways.com!
---
Monthly Guides to
College Tennis Planning
Available in Kindle & Print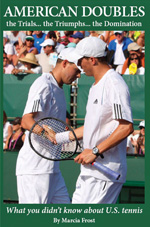 ---
---
---
---
TENNIS WEEK
---
---
Check Out
LAUREL SPRINGS
---

---
Return to:
College And Junior Tennis