Friday, May 23, 2008-Day eight
Women's & Men's Round of 16 Singles and Doubles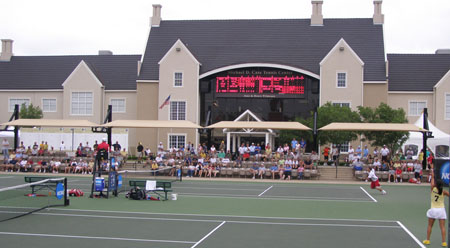 The seeds fell and the scores were deceiving as the round of 16 was played at the 2008 NCAA Division I Championships.
The men's singles draw saw quite a lot of turmoil today as three of the remaining players are unseeded. While No. 1 Somdev Devvarman had no problem getting past Erling Tveit, that wasn't the case for Lars Poerschke, the seventh seed who lost to Justin Kronauge. Justin wasn't the only Ohio State player doing well as Steven Moneke just got past home school favorite Arnau Brugues in a 7-5,3-6,6-4 decision that I kept following the cheering (for Arnau) back to.
The Pepperdine men were making Waves as Andre Begemann (9-16) defeated Oleksander Nedovyesov (3) in straight sets and unseeded Bassam Beidas had a fairly easy (6-1,6-4) victory over No. 4 Travis Helgeson, who still goes home knowing he clinched the team trophy for Georgia. In the remaining matches, J.P. Smith, who had beat No. 2 Greg Ouelette in the first round, remains alive, as does No. 8 Alex Clayton, who survived a tiebreaker over Bryan Koniecko.
The women's singles draw was no where as out of order as the men's, though second-seeded Ani Mijacika of Clemson was taken out by Auburn's Fani Chifchieva (9-16). No. 1 Aurelija Miseviciute struggled a bit in the first with Laura Vallverdu of Miami, but took the second easily.
It was a similar situation for No. 8 Riza Zalameda as the UCLA star lost the first to Claire Ilcinkas before coming back for the other two, while fourth-seeded Maria Mosolova won easily over Katrina Zheltova. Former NCAA singles champion Zuzanna Zemenova won in three over alpha-seeded Melanie Gloria.
Among the women's singles, there were two other matches I saw that weren't at all described in their scores. I didn't watch the clock, but it had to have taken hours for Amanda McDowell (7) to complete her win over Tracy Lin. The first four games of the second set alone (of which Amanda took all) were all very long, with multiple deuces. Though sixth-seeded Amanda Fink of Southern Cal's play was near-perfect, that doesn't discount some great effort and terrific points with Megan Moulton-Levy.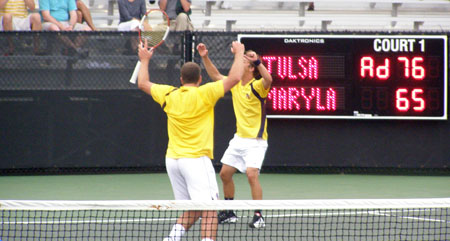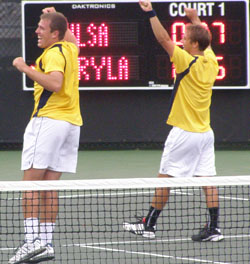 Brook Buck & Andy Connelly, who are getting married June 28th, have already started life side-by-side. On Friday, the two had their respective doubles matches on Courts 1 & 2. The fanfare from Andy's match -- the hometown University of Tulsa senior and his partner Ross Cunningham drew quite a crowd -- seemed to distract Brook to the tune of a 6-0 first set, but after her fiance clinched his match, she and Kelcy Tefft when on to a thriller of their own. The Notre Dame duo defeated MacCall Harkins & Anna Sydorska of TCU, 0-6,7-5,6-3. Despite all the close matches, there were no upsets in women's doubles today.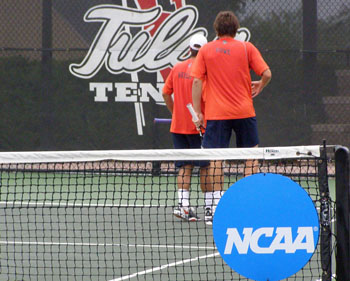 Today marked a final college tennis exit for Illinois' Ryan Rowe, who has been in the last two NCAA doubles finals. The senior and partner Billy Heiser fell to Jonas Berg & Erling Tveit. The fourth-seeded Mississippi pair were just a bit better in a test of power that saw half of the balls cascading over the fence.
It was just another of the many exciting doubles matches that again kept the spectators watching, including the upset by Texas A&M's Austin Krajicek & Conor Pollock and down to the last minute effort by the Shield brothers of Boise State against Robert Farah & Kaes Van't Hof of Southern California.
Although I did not get to see any of it, I'm also told that the Steven Forman/Cory Parr win over Bryan Koniecko & Steven Moneke was after the team was down 3-5 in the third. It looks like there will be more than enough for me to keep my doubles celebration going this week.
Until tomorrow,
Marcia Frost
For Additional NCAA Stories & Photos, check out:
Zoo Tennis
and the Official NCAA Division I Championship Site