Sunday, May 25, 2008-Day Ten
Women's & Men's Semifinal Singles and Doubles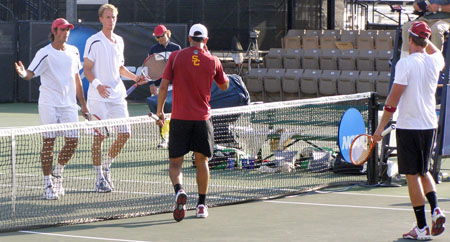 Two players have a chance to become repeat winners and new schools have an opportunity to bring home NCAA trophies for the first time. There was plenty of excitement today, but nothing could compare to the final match, so I am going to have to begin my story at the end...

I was able to position myself to watch three out of the four doubles semis at the same time. Riza Zalameda & Tracy Lin of UCLA lived up to their No. 1 seeding by carefully and quickly eliminating Fresno State's Renata Kucerkova & Anastasia Petukhova, 6-2,6-4.

I was able to watch the other women's semi (more on that below). And I also got to catch some great points as the unseeded Texas A&M team of Austin Krajicek & Conor Pollock were overpowered by No. 4 Jonas Berg & Erling Tveit. The one match that I wasn't able to see any of during that time was Bram ten Berg & Matthias Wellerman vs. Robert Farah & Kas Van't Hof.

When I arrived at Court 1, the two teams had already split sets and both had been tiebreakers. There was a heat rule in effect and the players had just finished a ten minute break. It seemed to re-energize them, as there was no break in power or speed.

It was fast moving doubles and the crowd loved it. The Ole Miss teammates of Bram & Matthias had already earned their place in the final and they wanted to join them. But the Southern Cal guys, who were seeded second, were just as determined and we headed into another tiebreaker.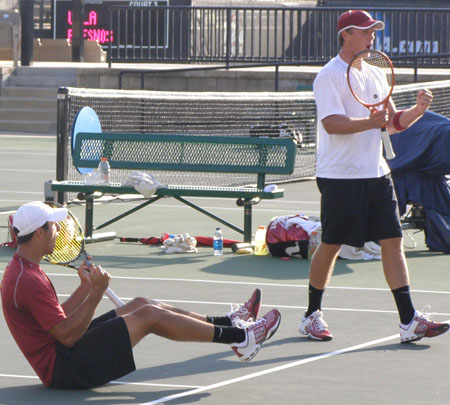 There was no end in sight as both teams gave it their all. After four match points for Robert & Kas, their opponents came back with one of their own, but that was still not the winner. Finally, on match point No. 6, the Trojans did it. It doesn't get any closer than 6-7(5),7-6(5),7-6(10)
There was no second set comeback for Brook Buck & Kelcy Tefft today as there had been throughout the tournament. The duo fell to the second-seeded Fresno State team of Melanie Gloria & Tinesta Rowe, 6-1,7-5. The two have been playing together since the juniors and took their final college tennis bow as Brook is finished with her Notre Dame degree (and getting married in a few weeks to fellow college tennis player Andy Connelly of Tulsa).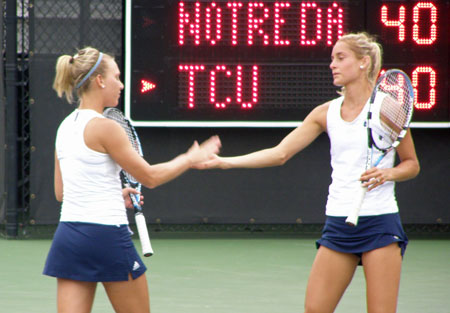 I expected the match between No. 8 Alex Clayton of Stanford and No. 1 Somdev Devvarman to be a great one and I was not disappointed. I've had a bit more experience watching Alex play since he grew up here playing Nationals and always loved is game. And it's hard not to like the finesse of the Virginia senior.
With their different styles of hitting winners -- Alex has much more of a power game, his forehands can go by faster than you can watch -- the games were long and close. Though Alex aced his way out of two break points down at 5-5 in the second, he couldn't get past the defending champion when it went into a tiebreaker.
Somdev will now play his third consecutive NCAA singles final. The last player to do that was Marty Riessen (1962-64).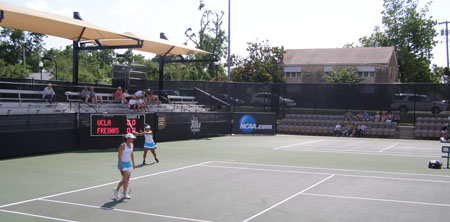 J.P. Smith becomes the first Tennessee player to advance to the championship match since current Associate Head Coach Chris Woodruff did it (and won) in 1993. The unseeded freshman defeated Andre Begemann (9-16) in a match that had much more excitement than a 6-2,6-4 score shows.
It was an emmotional match for senior Andre, who had competed on Pepperdine's winning team in 2006, but J.P. was just calm, steady, and doing everything right.
In 2005, Zuzanna Zemenova won the NCAA singles as a freshman. On Monday, she will have a chance to go for number two as today she got past top-seeded Aurelija Miseviciute of Arkansas. Despite a 7-6(2),6-4 score and hours of play, it was not the most exciting of matches (or was it that Somdev Devvarman-Alex Clayton 6-4,7-6 was so exciting?). The points and games were long, though mostly from the baseline.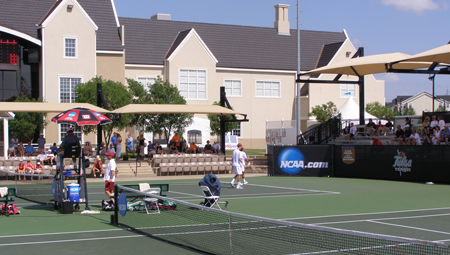 There was obvious disappointment for Amanda McDowell when her Georgia Tech team failed to repeat their championship win, but she will have a shot of doing it herself as a member of the only Yellow Jacket team to win the crown is now the only one from Georgia Tech to play in a final. Amanda earned that opportunity with a very solid, 6-3,6-2 win over Fani Chifchieva of Auburn.
The wind calmed down a bit today, to the thrill of the players and the dismay of the spectators who felt more heat and humidity. Sunday's finals will be played under hot (90 degree) and humid conditions. We'll see who can sweat it out to the winners' circle.
Until tomorrow,
Marcia Frost
For Additional NCAA Stories & Photos, check out:
Zoo Tennis
and the Official NCAA Division I Championship Site