1998 USTA ALL-AMERICAN SUMMER TEAM
'; document.write(c); //-->
The USTA has chosen twelve of the top collegiate players to join the 1998 USTA All-American Summer Team. The players were picked by the USTA and the ITA with the following criteria: U.S. Citizen; Final Rolex Collegiate Rankings; NCAA Singles Champion; Performance in ITA Collegiate Grand Slams; Dual Match Record; Sportsmanship; and Doubles Record.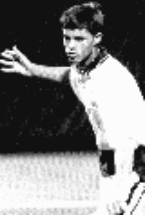 Bob Bryan
MEN
Bob Bryan
Sophomore-Stanford
Mike Bryan
Sophomore-Stanford
Paul Goldstein
Senior-Stanford
John Roddick
Senior-Georgia
James Blake
Freshman-Harvard
Ryan Sachire
Sophomore-Notre Dame
WOMEN
Marissa Catlin
Sophomore-Georgia
Amanda Augustus
Junior-Cal-Berkeley
Julie Scott
Senior-Stanford
Stephanie Nickitas
Junior-Florida
Sandy Sureephong
Junior-Texas
Holly Parkinson
Freshman-BYU

Marissa Catlin
The USTA Summer Team participates in a training session in June and then competes in USTA Professional Circuit events, as well as the ITA National Summer Championship. The winners of the ITA National Summer Championships are given wild cards into the US Open Qualifying.
---
Return to: