TALKING WITH... ALEX BOGDANOVIC
September 8, 2001
by Marcia Frost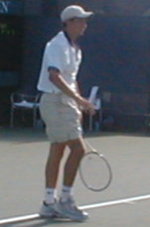 Q: Have you ever played Muller before?

A: "No, that was our first meeting. I've watched him around. He's No. 1 in the world right now."

Q: What were your expectations coming into the U.S. Open?
A: "I wasn't thinking after the matches. I just tried to concentrate at every single match to play as well as I can -- that's how I approached it. Going into this tournament, I wasn't feeling too confident. I just managed to win a couple of good matches and make my way through to the semis."

Q: Are you aware that you are the first player from Great Britain to ever make it to the semis of the U.S. Open Junior Boys Singles Championships?
A: "No, I wasn't actually. It's really good to hear that."

Q: What are your plans for the future?
A: "To try to make it as a pro."

Q: Are you planning on staying based in Great Britain?
A: "At the moment, yest. I've got a couple of contracts. My coach, Tito Vasques from Argentina, is there. We're going to be based there and travel a lot."
For more about Alex Bogdanovic's matches at the US Open, see our 2001
---