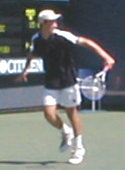 If you enjoy cheering for the underdog, than Alex Bogdanovic is your man. Alex finished last year ranked No. 230 in the ITF Junior World Rankings. His biggest Grand Slam achievement before this Summer was making it to the Round of 16 at the Australian Open. Though he won the Uruguay Bowl and was a finalist at the Citta Di Prato, Alex was hardly considered a threat to the top juniors. All of that changed when he stepped out on the court in Flushing Meadow this month.
In the first round of the Junior Boys Championships, Alex Bogdanovic defeated top American junior Josh Cohen, 6-4,6-2. As he continued to round 2 -- where he eliminated No. 12 seed Frank Dancevic -- people started to take notice. No one was sure exactly where he came from when he overpowered the eight seed Bruno Echagaray in two sets. When he made his way to the semifinals with another upset over third-seeded Brian Dabul, however, it was clear to everyone that this kid's time had come.
Aleksa Bogdanovic was born in Yugoslavia. He moved to London, England, when he was just eight years old and has made his home there ever since. He is coached by former player Tito Vasques from Argentina and has been playing some pro tournaments in addition to the ITF juniors.
After the U.S. Open, Alex rose to No. 14 in the ITF Junior World Rankings. He also made his way to the quarterfinals of the Kentucky Derby (formerly the Sugar Bowl). Though his concentration for the future is on a professional year, he is sure to finish out this calendar year with a top ranking in the juniors.
by Marcia Frost
* * *
Q: You made it to the semifinals of a Grand Slam tournament as an unseeded player, causing three major upsets. How does it feel?
A: "I'm actually pleased to have been in the semifinals, but it was a little bit disappointing. Every match you lose is a little bit disappointing, but I played a Grand Slam (semifinal) match, I served well and I didn't have too many chances (against Gilles Muller, eventual champion). In the second set, when I was up 2-0, I played a good point, I just missed it by 10 centimeters and I couldn't break to try to take a lead. From the back, he was really solid."