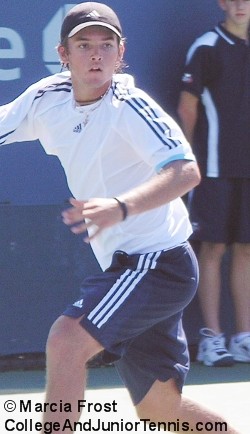 Q: How did the movie influence your game?
A: "The Zoo? It did get annoying sometimes when you're playing and you see that there's cameras around the courts. After awhile I just got used to it."
Q: I was at some of your matches at the Claycourts and I thought you seemed to be inspired by it -- like you were playing for the camera.
A: "Yeah. I might hit a big shot or a big serve or something for the cameras. I didn't mind it. I liked it actually."
Q: You had such an incredible summer. Is there anything else that you can attribute that to?
A: "I've just been working a lot on the weaknesses in my game to get better. My returns got a lot better, my backhand. My serve and forehand are always there, it's my backhand, my returns and my volleys that have been getting better. My movement too."
Q: What has been your best win?
A: "The longest match I ever played was against Sam Querrey. At the Luxicon Cup. I won 12-10 in a third set tiebreaker."
Q: What tournament did you have the most fun at?
A: "That is tough. Probably the French Open. That was a really fun tournament."
Q: Is there a tournament you haven't been to yet that you're looking forward to?
A: "I would like to play here (U.S. Open) as a professional in the men's main draw. I played the Qualies last week. I'd like to play in the main draw on one of the stadium courts."
Q: Where do you go from here?
A: "I'm going to Belgium to be a Davis Cup hitting partner. Then I'm going to play a Future in California. Then probably three or four more Futures."
more