TALKING WITH... ALEXA GLATCH
August, 2004 continued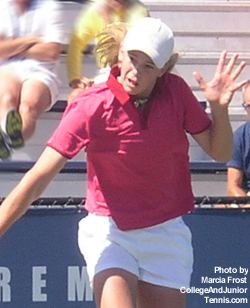 Q: What has been your best tournament win?
A: "I'd say 16s Orange Bowl last year. That was a big one."
Q: What tournament have you had the most fun at?
A: "I don't know."
Q: Have you had fun at any tournament?
A: "Yes (laughing). I enjoy them all."
Q: Is there any tournament you haven't played that you're looking forward to?
A: "I've played US Open Juniors, but I'm really looking forward to that this year.*"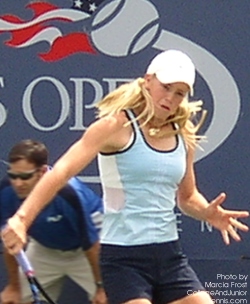 Q: Why more this year?
A: "I think I just have a better chance."
Q: Is the US Open the next tournament you're playing?
A: "I'm not sure. It might be Canadian Open. Or maybe a Pro Event. I'm not sure."
Note: Before playing US Open Juniors, Alexa was given a wildcard into the Women's Qualifying where she defeated Miho Saeki, 6-4,6-2, and then lost to seventeenth seed Mervana Jugic-Salkic, 6-3,6-0.
more
---