TALKING WITH... ALEXANDRA PODKOLZINA
August, 2003 continued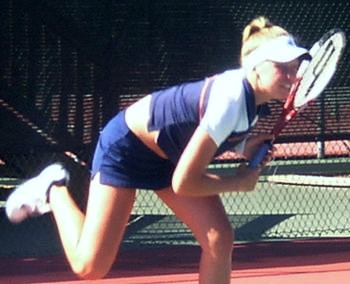 Q: There were only two girls that won this (the Girls 18 National Hardcourts) twice -- Tracy Austin and Laura Granville. Everyone is expecting you to be the third. Is that a lot of pressure?
A: "No. That's not what I'm here after. I'm not here, as I read somewhere, 'to make history.' I'm here to play well and that's not happening yet."

Q: You've had some tough matches here.
A: "I don't know, I'm just not playing well right now."

Q: What made you decide on Cal?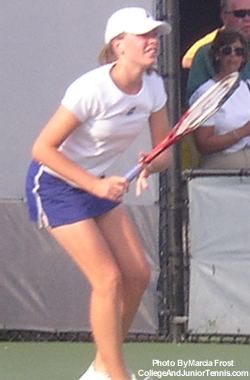 A: "First of all, it's only about 20 minutes from my house. It's near my club. I wanted to stay close to my coach and my house. Plus, it's a very good school academically. That's what I was looking for. We'll have a chance to win NCAAs."

Q: What are you majoring in?
A: "I have no idea yet."

Q: Did you consider not going to college?
A: "My parents both have Ph.Ds so tennis isn't the big thing. College was always on the map, but now I'm looking at perhaps playing for a year or two and then going pro."

Q: What has been your best win?
A: "That's too hard of a question. I would say winning the 16s Hardcourts two years ago was one of my best wins because it was only two weeks after I got my green card and I had no expectations. It was the first tournament where I showed myself that I can actually make it here."
---