ITA MEN'S ALL-AMERICAN CHAMPIONSHIPS
University of Texas - Austin, Texas - October 14-18, 1999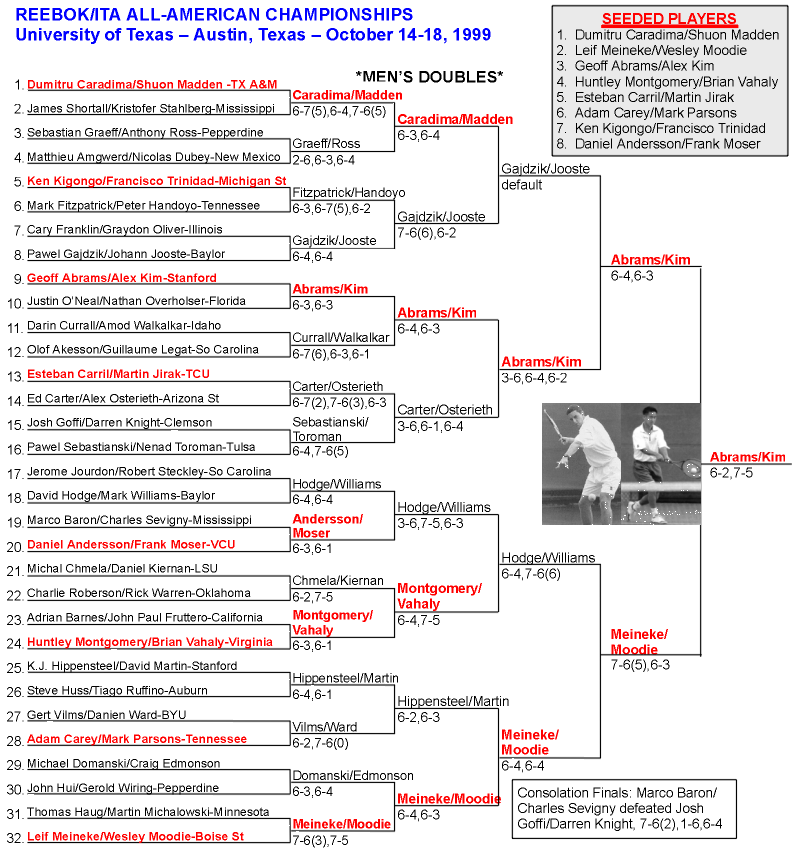 QUALIFYING
September 12th-There were quite a few upsets in the first round of qualifying for the Reebok/ITA Men's All-American Championships. Second seeded Graydon Oliver (Illinois) was downed by Ed Carter (Arizona St), 6-4,6-2; Sebastien Graeff (Pepperdine), the No. 4 seed, lost to Marc Legris (New Mexico), 6-3,6-4; Anthony Ross (Pepperdine) defeated No. 7 seed Edo Bawano (Kentucky), 6-3,6-3; and No. 8 seed Jeff Laski (Illinois) was upset by Andy Leber (TX-Arlington), 6-3,6-1. Marc Legris, Anthony Ross and Andy Leber had played the pre-qualifying to earn their places in this draw.

Remaining seeds No. 6 Andrew Nisker (Vanderbilt), No. 3 Matt Wright (Michigan) and No. 5 Huntley Montgomery (Virginia) advanced easily. Players need to win two rounds to qualify for the main draw.


September 13th-The second (and final) round of qualifying is complete and the following players have made their way into the main singles main draw: Alex Aybar, Petr Koula, Andrew Nisker, Trace Fielding, Marc Legris, Lance Mills, Andy Leber, Scott Eddins, Andres Pedroso, Nick Crowell, Adam Carey, Matt Wright, Chris Sands, Huntley Montgomery, Scott Thompson and Kristofer Stahlberg.

Qualifying for the doubles main draw are these teams: David Hodge/Mark Williams & Pawel Gajdzik/Johann Jooste (Baylor); Josh Goffi/Darren Knight (Clemson); Gert Vilms/Damien Ward (BYU); Marco Baron/Charles Sevigny (Mississippi St); Thomas Haug/Martin Michalowski (Minnesota); and Sebastien Graeff/Anthony Ross (Pepperdine).
---


TENNIS BOOKSTORE