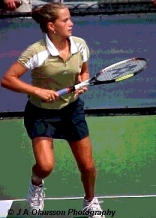 The European clay court season, a five tournament run that included three events in Italy, one in Belgium and the Roland Garros Junior Championships, was all about Ashley and Cory Ann. Thatís Harkleroad who calls Wesley Chapel, Florida home and Avants who hails from Gastonia, North Carolina. The duo ran up some impressive results on the terre battue.
Harkleroad moved to No. 4 in the International Tennis Federation World Junior ranking by capturing the 37th Astrid Bowl in Belgium with a 6-0,6-1 triumph over Angelique Widjaj of Indonesia. The next week she was a Roland Garros semifinalist dropping a 6-1,6-3 decision to Kaia Kanepi of Estonia, the No. 4 seed. Teaming with Scarlett Werner of Germany, she came up short in the doubles quarterfinals 6-2,3-6,6-3 against Eve Birnerova/Barbara Strycova of Czechoslovakia.
"I had a hard draw, but Iím happy reaching the semifinals," Harkleroad said of her play in Paris. "The girl I played in the first round I played in the semifinals at the Astrid Bowl. I donít want to make excuses, but I twisted my ankle yesterday and couldnít move to well. Thatís not to take anything away from Kanepi. I couldnít compete with her today."
In back ≠ to ≠ back weeks Avants moved from qualifying to tournament star. At the 9th Citta di Prato in Italy, she dropped a 6-3,7-6 semifinal decision to tournament winner Dinara Safina of Russia, who is Maratís younger sister. At the 23rd Citta di Santa Croce, also in Italy, she qualified again and lost in the final 6-2,6-3 to Gisella Dulko of Argentina, who she had surprised in the second round at Prato.
While the U.S. boys were not as spectacular as the girls, they were certainly game. "I think the experience has been invaluable," said National team coach Kelly Jones. "We throw them into very unfamiliar situations. Until they deal with the variables, they do not know what to expect. My goal was, that at the end of the tour, they be better tennis players. That is what has happened. They are not going to leave here playing like Europeans, but they have gotten a lot better."
(Photo is of Ashley Harkleroad)
more