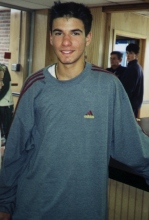 Playing in Europe requires adjustments. "Every year I come it gets a lot easier," said Josh Cohen of Weston, Florida. "You get used to the situation and playing against the best players in the world. In these tournaments, everyone is tough."
Harkleroad and Avants were not the only girls to draw notice. Sunitha Rao of Bradenton, Florida was a quarterfinalist at the Astrid Bowl. Shadsha Robinson of qualified at Santa Croce and lost in the quarterfinals to Dulko.
An interesting aside, Jonathan Chu of New York City, New York played the Roland Garros doubles with Matija Zgaga of Slovakia. The pick ­ up team was defeated in the quarterfinals 6-3,5-7,6-4 by Alejandro Falla/Carlos Salamanca of Columbia. At the start of the year Chu had a goal. "I wanted to achieve a Grand Slam and play in all the junior championships," Chu said. "I was in the draw at the Australian Open Junior Championships and Roland Garros. I will play Wimbledon and I the U.S. Open Juniors."
Jonathan is not the only member of his family to be record setting. His mother Irene Chu has journeyed to Melbourne, Paris and plans to be in both London and New York.
With play on the Continent completed, the best in the U.S. head to England for a go on the grass.
(Photo is of Josh Cohen)
back