TALKING WITH... ASIA MUHAMMED
September, 2007 continued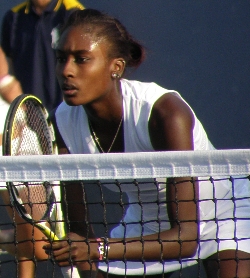 Q: What has been your best win?
A: "Probably my first Pro one. In Houston, Texas, it was a $10,000 Circuit a month ago. I had gotten to the semis in one at El Paso and then won the next one. I beat Jelena Pandzic in the finals. Since I beat her she hasn't lost a match."
Q: What tournament did you have the most fun at?
A: "I have fun at every tournament, but Houston was really fun."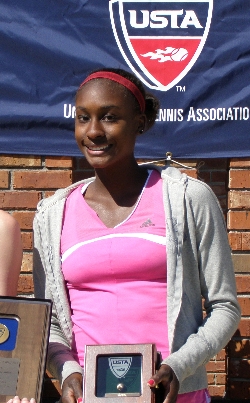 Q: What tournament haven't you played yet that you are most looking forward to playing?
A: "U.S. Open. I'll probably be going to that next."
Q: "Does anyone else in your family play tennis?"
A: "My cousin, but not really anymore. She is at Howard (University) right now."
Q: Are you thinking about college?
A: "It depends on how my results are. I'm going to be a junior this year so I still have two more years. The college I'd like to go to is USC. My dad went there and I've known USC since I was little, but if my results are a little better, then probably…"
more