Friday, July 18, 2008
Today was quarterfinals day at the Atlanta, Georgia $10K USTA Women's Tournament and it was HOT-DIDLEY-HOT as Ned Flanders would say. In their infinite wisdom, Bunny Williams and Patricia Jensen (yes, of that Jensen), started the matches at 9 a.m. It was a beautiful start to the day, being only 75 degrees, but much like the kindness of a light warmup, it wouldn't't last.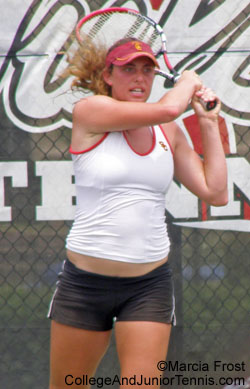 On court at the same time were two very different matches. To my right and on this court was Zuzanna Zemenova of Baylor taking on Amanda Fink (left), still looking fresh from her Allentown finals. To my left and on that court was Florida Gator Julia Cohen about to do battle with Mallory Cecil on her 18th birthday. The warm ups looked easy on both courts but war was on!
The Zemenova vs. Fink match was over before either Cohen or Cecil held serve, it seemed. With their cagy spins and net play anoccasionalal power backhands, this was cat and mouse tennis! And more often than not it was Fink getting the cheese! What I noticed about Fink is that she is strong. Not the biggest hitter, but just physically strong. She doesn't get overpowered and stays very composed out there usually. Zemenova is more tactical than overpowering so it was no wonder the first set was over in no time 6-2 for Fink. Rolling along as she did in her first round match, Fink went up an early break. Zemenova held serve for the first time in the set and had a break point to get back on serve. It's at this time net cords started going Zemenova's way and it was three straight games and for the first time since going up 1-0 in the first set, Zemenova was ahead in a set. At this point I heard "Would you stop choking?!?!" and "Stop choking" coming from deep inside Fink's diaphragm. That never seems to be a good sign but sometimes it works. Today was the day it worked and Fink won the next four games and the match was over 6-2,6-3. Fink advances to the semifinals.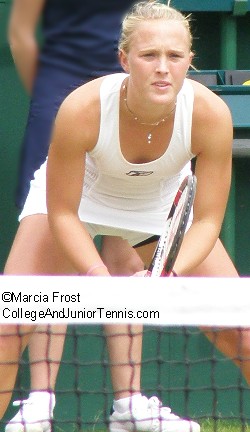 Now, for the Cohen-Cecil match. When I mentioned that Fink had won before either held serve, I was only exaggerating a bit. The first set went five games before someone held. This is thquint essentialal returner's match. The first person to hold was by birthday girl Cecil for 4-2. Cecil was channeling a William's sister because every point was either a winner by Cecil or an error by Cecil. She was overpowering Cohen with hard, flat, deep angled forehands and backhands and doing what most only think about: taking balls out of the air and coming to the net. Something she did with great success. From 2-2 in the first set she reeled off 4 straight games to take the first set 6-2. Much like her first set against Emily Gelber yesterday, Cohen did not live up to her potential. I was hoping the second set would be a little stronger from Cohen and she did not disappoint.
Cohen served first in the second set. Not an enviable poisiton I must say. She started playing with new tactics and quickly went out 40-15. Then 40-30. Then deuce. Then Advantage Cecil. Then with a long point finished at the net it was another break and a fifth straight game was Cecil's. HAPPY BIRTHDAY! Cohen didn't seem ready to light her birthday candles quite yet as she won the next three games to go ahead 3-1. But with another big backhand swing volley Cecil got a beak point and won the game to pull back on serve, 3-2. At this point I realized there were four holds so far in 13 games. Cecil broke and held to go ahead 4-3. At this point Cohen did what she does best which is capitalize on creeping nerves and frustrate players into errors they would never make otherwise and Cecil was her latest victim. Cohen won eight points in a row forcing Cecil into forehand errors and it was 5-4. Somehow Cecil collected herself and won the next two games to serve for the match at 6-5. Cohen hit a volley winner to go up 0-15 and a forehand error got her to 0-30. In the best point of the match so far, each player raised their play knowing what was at stake. Cohen got two break points to get the match into a tiebreaker.
On the first point of the breaker, she broke and now it's best of seven with a lead of two to either win the match or force a third set. With two down the line backhand winners and a forehand winner Cecil was at 3-0. Four forehand errors and a bounced racket got Cohen ahead 5-3. Then it's 6-4 Cohen with two set points. Two errors and an overhead winner put Cecil at match point 7-6. Another long hard fought point that produced another forehand error from Cecil and it's 7-all. Then 8-7 Cohen for a 3rd set point. Going for the winner down the line she caught the top of the net and it's 8-all. Another backhand error gave Cohen another set point at 9-8. A screaming backhand winner got Cecil to 9-all but the same side produced an error in the next point for the 5th set point for Cohen. Somehow, chasing down every ball, returing some with pace, other with everything but pace, Cohen forces another backhand miss and screams "YES" to finally win the 2nd set tiebreaker 11 points to 9! You would think there couldn't be much more drama than that tiebreaker, but if you think that you don't know Cohen or Cecil.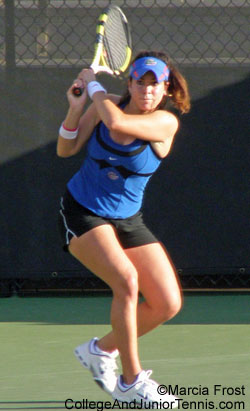 Both Cecil and Cohen (left) came back from a brief break to each hold serve! This was no mean feat in itself. With great defense and some really nice serving, Cohen went up 5-2 serving for the match. At 15-all Cohen was three points from the match. And Cecil would break her at 15 to get one break back. Cecil holds and Cohen serves for match again at 5-4. With a couple forehand winners Cecil pulled even to 5-all. Cohen broke at 15 to serve for it for a third time. At 30-15 Cohen looked like she would finally close this match out, living up to her #1 seed. And then in no time it was a third set tiebreaker! Cecil, like the second set tiebreaker, would win the first point but Cohen would go on a tear and win the next four to get three points from the match for the third time. With another winner and an untimely double fault from Cohen it was 4-3. Then 5-3 Cohen. Then 6-3 Cohen with three match points. A double fault on the first and a forehand error on the second got it back on serve. Then I watched one of the best points I have seen the entire tournament. Neither player would back down, playing their game at their highest level. I couldn't hear a breath from anoyone in the crowd, just the grunting of the players and the scuffling of their sneakers on the hot asphalt. And then in a moments time a backhand hit the net and it was over. 7 points to 5! Cohen won the third set tiebreaker and the match. The crown was as exhausted as the players.
This last match is the reason people love to watch tennis! And why I love doing this coverage! This will be the last match I will cover at this tournament due to scheduling conflicts, but I am hoping that something will present itself and I'll be at the finals. And if I am, there will be more from me!
Stories from First Days of Event
Check the new TripAdvisor for great deals on hotels
Monthly Guides to
College Tennis Planning
Available in Kindle & Print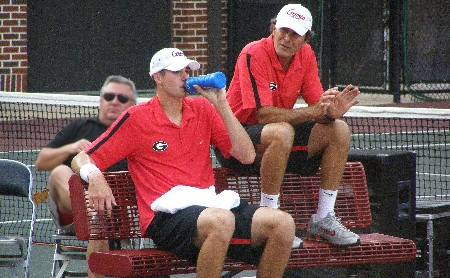 College Tennis featured in
American Doubles...







Monthly Guides to
College Tennis Planning
Available in Kindle, Print & EBook
for H.S. Seniors
and H.S. Juniors
Monthly Guides to
College Tennis Planning
Available in Kindle & Print
Monthly Guides to
College Tennis Planning
Available in Kindle & Print

Sibling Pairs featured in
American Doubles...











Return to:
College And Junior Tennis