Tuesday, July 15, 2008
Today was the first "big" day at the inaugural ITF $10K women's tennis tournament in Atlanta, Georgia. I mentioned in my coverage of the 2nd round of qualifying that there are on three terrible things about summer in Georgia: heat, humidity and showers. The first day of qualifying the tournament was plagued by all three. Yesterday, luckily it was only two: heat and humidity. Today was more of the latter. It was 80 degrees by 10 am and a whole lot of sticky.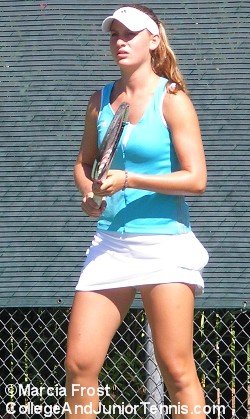 First up at am were Mallory Burdette (left) against 6th seed Anastasia Kharchenko, ranked 710 in the world. Mallory has made it back to hard courts after a long overseas trip which saw her play both the French and Wimbledon Junior Championships. It is easy to see how confident she is on hard courts as she started blasting the ball deep as hard as all the Burdettes do and broke at 15 in the first game. After fighting off four break points in the second game she went ahead 2-0. Kharchenko got on the board by holding and made it 2-0, but that was to be the last game she would get this set. When she is confident and the ball is in her strike zone, she can hit winners from anywhere on the court, very reminiscent of Lindsay Davenport. It was a 28 minute set and seemed like 15.
The second set would see Burdette forget to move her feet, step into the ball and as forehands flew she went down 3-0 and two breaks. The next game Burdette broke at 30 but went down 0-30 in the next game. She composed herself and won the next four point to pull back to 3-2. Kharchenko's tactic of high looping balls which frustrated Burdette into errors were now starting to land in her wheelhouse and Burdette's errors were fewer. Kharchenko would hold at 30 and had a break point to go up 5-2 and server for the second set, but three winners from the forehand of Burdette held for 4-3 and after losing a break point at 30-40, broke on her 2nd point to pull even at 4-4. In the true sense of a see-saw match Burdette went down 15-30 and won the next three points to go ahead in the second set for the first time. Three errors from Kharchenko got Burdette to match point and after a weak second serve and a forced error by Burdette, the match was her's 6-1,6-4. It showed a lot of fight and good tactics by Burdette to get through that second set. We've all seen players start thinking about the third set when going down that deep in a hole, but she never looked like she didn't't want to win that set. Image is everything.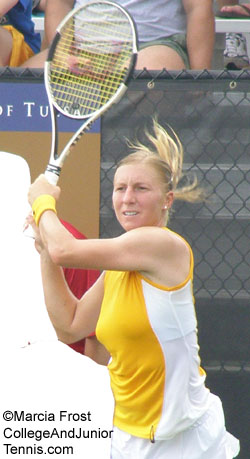 At the same time of this match was an NCAA Division I match between NCAA champion (and finalist this year) Zuzanna Zemanova (right) of Baylor and Christy Striplin. In true fashion, the first game of the first set went to six deuces and on that last break point Zemenova broke. She has one of those games where she can take control of any ball and any point. She has spins, slice, loopers, flat forehands down the line. Everything that can frustrate another player. And she does exactly that to Striplin. Striplin is no slouch on the court and in my humble opinion has a world class backhand when it is timed right. She just found it very difficult getting that consistant ball from Zemenova and after Striplin broke back to pull even at 1-1, she would not win another game. The games were long, the points hard fought but much like Striplin's match with Poole yesterday, the winner just had every last shot when it mattered. Final score 6-1,6-0 Zemenova.
Allentown surprise finalist Amanda Fink of the University of Southern California, using a special exempt wildcard here, played Tamera Day from South Africa. I watched the 1ast three games -- which Fink won -- and was impressed with her. She is a lefty with a big windmill of a forehand and a flat backhand. And even with her light brown curls reminded my of Patty Schnyder. In all good ways. I left her match to watch the BEST match of the day the the most ENTERTAINING match of the day. They were not the same.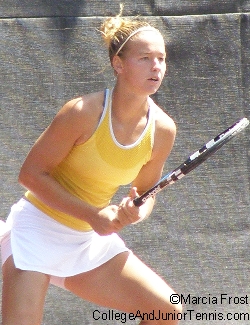 BEST MATCH: Kristy Miller (left) vs. Anna Lubinsky. I live in Atlanta and went to the University of Georgia so it is impossible not to be impressed by Kristy Miller. The first thing I noticed about Miller was her fitness. She looked like she has been working hard to get into supreme fighting shape. But I was equally inpressed by former Texas A&M player, quickly went up 5-0 in the first set. The points were hard fought. Miller likes to hit with pace, move the ball around until she can create an opening and Lubinsky gave her nothing. She defended beautifully, frustrating Miller into forced error after forced error. At 5-0 Miller started to find a little more range with her shots and broke Lubinsky as she served for the bagel. Miller held for 5-2 but this time around Lubinsky would not faulter and would hold for the set. The first set was 6-2 Lubinsky. Serving to start the second set Miller got a warning from the chair umpire for calling her own lines. After blowing off some steam she apologized and said "I'm sorry, I'm just used to it." The points were becoming tougher and tougher for either player to win, but Miller worked her way to a 3-0 lead before Lubinsky was able to hold for 3-1. Next game... 4-1 Miller. Then it was 5-2. Lubinsky held for 5-3 and with Miller serving and having two set points, Lubinsky broke for 5-4. Lubinsky went up 30 only to have Miller hit a winner at 30-40 to win her third set point and the set 6-4. BREAK TIME! The third set went pretty much the same way as the second, Miller went up 3-0 and then 4-1. It was here that Miller's fitnesbecameme her secret weapon. The points were long the temperature very hot and the humidity waactuallyly not bad. It only FELT like 90 degrees. Another long game had Lubinsky hold for 4-2. Another long game had Miller hold for 5-2. Lubinsky continued to play well, but Miller was just stronger. 15-0 Lubinsky and then the wheels fell off. Two double faults and a forehand error gave the win to Miller. As much as I love to watch matches this competitive and hard fought and high quality I hate seeing someone leave without a win. No one was a loser!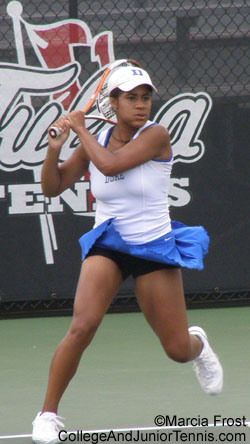 MOST ENTERTAINING MATCH: Ellah Nze (right) vs. Emily Gelber. This one had it all! Nze cruised through the first set and was up a break 3-2 when Gelber breaks back and takes the set 6-4. Then a long break that included forced costume changes, trainers and sickness kept the crowd entertained. This was the quintisential returners match. I think there were only maybe three holds in the next set and by the time the air cleared, 16 year old Gelber came away the victor 2-6, 6-4, 6-4.
Next up was #1 seed and Florida Gator Julia Cohen against a Carling Bassett look alike (Carling III?) Yuliana Motyl who I had seen play in January at St. Leo. She has very flat two handed strokes and can hit a nice ball. But there is no one at this lever who can change the speed, direct or spin of any ball better than Cohen. She is a magician with the ball, doing things to it very few can. I watched hard flat shots by Moytl be returned with no pace floating into corners and off the court to the constant frustration of Moytl. The score was 6-1,6-2 Cohen and it felt like it.
The last singles match of the day had #2 seed Jamie Hampton taking on Yolande Leacock of Trinadad. With her left wrist taped and sporting a new one handed sliced backhand, Hampton is obvious a little awkward about the backhand, but it is a beautiful shot when she attacks with it. The nervousness showed in the first game as she went down a break. She broke back and proceeded to get broken again. After the fourth straight break it was even again 2-2. Hampton's forehand is such an amazing shot and she uses it in the only gear that Hampton know: HIGH! It has the power of a top 50 player forehand but overhit a bit trying to compensate for her backhand. Her opponent was also the perfect first rounopponentet: hits a clean ball, good power, but nothing to hurt you with. Hampton won thfirstst set using her forehand, the sliced backhand approach shot and her amazing net skills 6-3. Unfortunately, Hampton allowed even more forehand errors to creep in that after many games go in deuce ad deuce ad and after being tied at 4-4, Leacock won 6-4. The third set went the way you don't want to see. Hampton won the first 2 games only to have Leacock to call the trainer and after four more points retired due to cramping as far as I could tell. If Hampton gets to understand and love that backhand she will be a force to be reckoned with in this tournament.
Tomorrow is an off day for me but I will be back for the quarterfinals and if everything works the way I want it, the finals.
Monday, July 14, 2008
Today was the second day of qualifying for the inaugural $10k lTF Women's Professional tournament in Atlanta, Georgia. I had covered the 2006 Orange Bowl for amerdoubook-20Tennis.com while I was on a documentary film shoot there and had such a great time I emailed and offered to do some coverage here as well, since I do live only 20 minutes away.
I felt bad for the women playing because it is summer in Georgia which means scattered showers followed by oppressive heat and humidity followed by more of the same. Anyone who forgets their sunscreen will immediately become a lobster. And not in a good way.
Today was college tennis day and the local stars of Georgia Tech did not disappoint the fans or coaches. Christy Striplin was first to finish her second round match agains Hillary Poole, 6-1,6-0. Although that sounds like a disappointing result, the games were all tight and Poole has a very strong game. But Striplin was very focused and methodical about the match, withstanding the punishing forehands until she could either create one of her own or draw the error. At 1-0 Striplin, Poole ran for a forehand which she called out while returning but corrected and after Striplin didn't play the ball Poole went back to replay the point. Sadly for Poole, ITF rules state that the point is Striplin's. The USTA Umpire did thank her for her honesty and I was amazed to see that type of sportsmanship in the game! I like her!
Striplin's former teammate Kristy Miller, in what I gather is her first tournament as a professional after graduating with a 4.0, played just as high a quality match but lost one more game in a 6-0,6-2 decision against Barbora Hodinarova. The games were long, the points were long, the match was long and lasted an hour and a half. It seems like regardless the score, every match lasted 1½ to 2 hours. And in the hot, unforgiving, mean Georgia sun it is no mean feat to just last out there.
The Georgia born Burdettes -- Lindsay and Mallory -- who were excited to get a wild card into the doubles, both won their second round matches. Lindsay against Grace Leake and Mallory against Desiree Tran, a 14 year old who chased down lots of shots and in many rallies traded big babe backhands with Mallory, but in the end lost 6-0,6-2. Other college players in the final round of qualifying are Elizabeth Lumpkin from UCLA, Sanaz Marand from North Carolina and Claire Bartlett who has committed to Virginia.
Other than Mallory Burdette, the only other American Junior to make it to the final round of qualifying was Ariel Ellis, who I must say has a lovely slingshot for a one handed backhand. With strength anconsistencycy, it could become quite a great weapon! On the practice courts I got a peek at Jamie Hampton's new one handed slice backhand. Another great weapon. If she uses that shot to come into the net she's going to make a very strong statement at this tournament. I will be back to Wednesday for the first and second round and then again Friday for the quarter finals.
Stories from Additional Days