TALKING WITH... ATTILA BUCKO
December, 2006 continued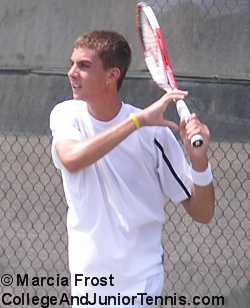 Q: What has been your best win?
A: "There have been a lot of good ones. I can't name just one. Last year I won five ITF touraments. This year I qualified for a Futures and beat a guy who's five hundred to in the world to get my first ATP points."
Q: What tournament did you have the most fun at?
A: "Probably the ones I won!"
Q: Ok. Any one in particular?
A: "On the Chanda Rubin Circuit last year. We had fun everywhere."
Q: Is there a tournament you haven't played yet that you're looking forward to?
A: "I played the U.S. Open and I'd like to play the other Grand Slams."
Q: Are you playing any more juniors in 2007?
A: "No, I'm going to college. Orange Bowl is my last one."
Q: Why did you pick Baylor?
A: "The tennis team is really good there. I looked at a couple of schools, but I really liked their program and tennis coaches."
more
---