Saturday, April 29, 2006-Day Three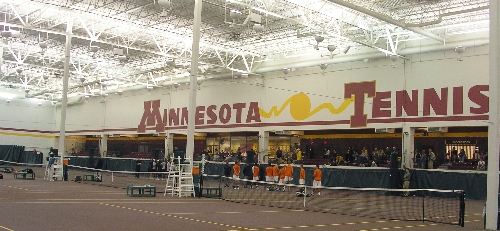 After all the great matches, upsets and near upsets, the Big Ten Championships is back where it was expected to be -- waiting for No. 1 Ohio State and No. 2 Illinois to continue their longtime rivalry and playoff in tomorrow's final.
Yesterday Michigan and Penn State managed to squeak through with their wins and earn their place in the semis, but they were certainly the underdogs today. Despite that both teams came out with their best efforts and put up quite a fight even though they were shut out in the end.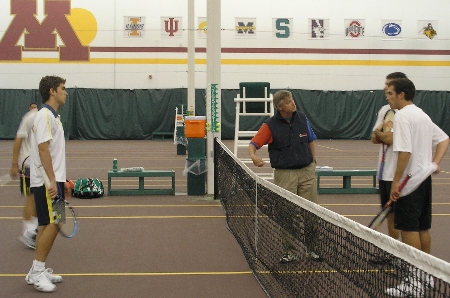 First up in the morning was Ohio State against Michigan. The Buckeyes had their best at the helm -- the nation's top-ranked doubles team (who are two-time National Indoors winners) Scott Green & Ross Wilson. They were not quite prepared to be challenged, but Brian Hung & Matko Mavavic did not come out prepared to lose. They kept up their serve and didn't let the duo break until 4-3. It was actually the second team of Drew Eberly & Bryan Koniecko who brought in the first win at 8-2 against Ryan Heller & Andrew Mazlin, with Green/Wilson following shortly to give Ohio State the first point.
The singles certainly didn't run as close as the Buckeyes had let it go yesterday. No. 1 Bryan Koniecko had a tough time getting started before coming back from a 3-0 defecit to take the set, 6-4, and the next three games. Matko Maravic retired with an injury before he could finish it up for point number two. It was only fifteen minutes later and another ten after that before Steven Moenke took out Andrew Mazlin, 6-3,6-1, and Devin Mullings eliminated Brian Hung, 6-2,6-3.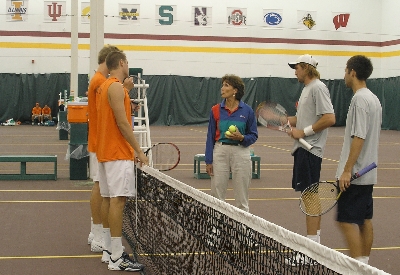 For Illinois, it was a very different match today against Penn State. The final score was 4-0, but like the Ohio State/Wisconsin match yesterday, that doesn't tell the story. It was a hard fought win for the Illini -- though not so much in doubles as seniors Pramod Dabir & Ryler De Heart quickly dismissed Ryan Berger & Bradley Hunter, 8-4. Shortly after Kevin Anderson & Ryan Rowe defeated Mark Barry & Adam Slagter. The doubles was exciting and fun for the crowd (and players), but there was no doubt the orange and blue were in charge.
The singles competition was a bit tougher than expected. The first few games across the board were long as the play was top level. The Illini took all but one first set as yesterday's leader Marc Spicijaric dropped one to Adam Slagter at No. 5. The second sets were all close with No. 1 Ryler DeHeart even losing his to Mark Barry. Still, they pulled it out with Ruben Gonzalez leading the way with a quick 6-4,6-2 over Bradley Hunter. It wasn't clear where the next one would come from and it took another twenty minutes before Kevin Anderson did it 6-2,6-2 over Malcolm Scatliffe. As Marc Spicijaric hoped to push it to a third with a tiebreaker, Ryan Rowe ended the suspense and Penn State's run with a 7-6(2),6-4 win against Michael James.
Illinois has taken the last four Big Ten Championships, but are seeded second this year after suffering their only Big Ten loss to Ohio State. They are ready to avenge that loss, while the Buckeyes are hungry to finally take the championship. Stay tuned to find out which powerhouse takes the trophy home tomorrow.
Until Tomorrow,
Marcia Frost

Monthly Guides to
College Tennis Planning
Available in Kindle, Print & EBook
for H.S. Seniors
and H.S. Juniors
---
---
Return to:
College And Junior
Tennis Homepage