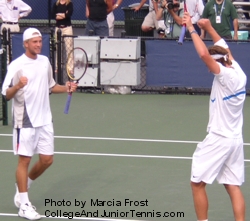 Q: With all the talk about the (Gael) Monfils Grand Slam, do you think people realize how close you guys came?
Brendan: "We talked about it earlier. We were more consistent then him. We won three and then we semied; he won three and lost in the round of 16."
Q: And it was 8-6 in the third at Roland Garros.
Brendan: "Yeah, we were actually up 5-3 in the third. It was a heartbreaker. We would have loved to have that one and we would have loved to have the final in Kalamazoo. That was another tight match that we lost. You know, we haven't lost before the semis this year."
Q: Were you nervous after you were down a set in today's match?
Brendan: "A little nervous. We could have taken that first set. I missed two volleys. I felt we should have stayed in it. We had a couple of break points that we could have taken, but there was no need to panic. We were playing well and we've been down two times a set this week. We're used to coming back. Our first set is not always the greatest!"
Q: Brendan, how is this different from the last final you played here (at the US Open Junior Championships)?
Brendan: "We were just a team out of nowhere back then and we got through a couple of matches. I was so overwhelmed by the situation. We ran into a guy named Tomas Berdych in the finals. He was 16 at the time. Him and Stefane Bohli. They were just more experienced then Brett (Joelson)and me. This one I felt we had a lot more experience than the other players. That was the difference today."
Q: Scott, you were looking for this title last year and you were disappointed when they cancelled the doubles. Does it mean as much or more this year?
Scott: "I didn't get a chance to play last year. Doubles got cancelled. So, yeah, this is my first time playing doubles here. I haven't lost a doubles match in New York so far!"
Q: As Americans on 9/11 with all the activity on the court next to you (preparing for the 9/11 Ceremony) did it bother you?
Brendan: "I thought some coach was yelling at his player or something. I woke up today and turned on the news and they were having all the 9/11 ceremonies. I know they are very meaningful."
more