TALKING WITH... BRENDAN EVANS & SCOTT OUDSEMA
about their ALMOST GRAND SLAM
September, 2004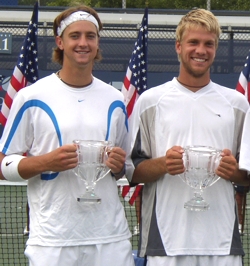 There will always be sadness in the hearts of many when they remember September 11th, but for Brendan Evans and Brett Joelson it was also a happy day where they carried the American flag with pride.
It would have taken just two more wins for Brendan and Scott to accomplish the Junior Grand Slam in doubles. They had won the Australian Open, won Wimbledon and captured the US Open title on 9/11. The only one they didn't have was Roland Garros, where they lost in the semis. With Americans conspicuously missing from the men's and women's finals at the Open, their victory meant even more.
Three years ago a very inexperienced 15 year old Brendan Evans had surpised everyone and made it to the US Open Junior doubles final with Brett Joelson. A lot has happened to Brendan since that day when the publicity shined on him. He has turned professional and traveled the world playing both junior and professional tournaments. In 2004 he made the best choice of all when he teamed with Scott Oudsema, a previous Australian Open doubles winner (with Phillip Simmonds, 2003) and aimed toward the Grand Slam.
Despite the fact that they had won so many doubles titles before, it is difficult to describe the elation of the duo when they stood before the Amercian flag and accepted their trophies for the US Open Junior doubles. That excitement was still with them when they sat down to talk about it an hour later.
by Marcia Frost
---