TALKING WITH... BRIAN BAKER
September, 2002 continued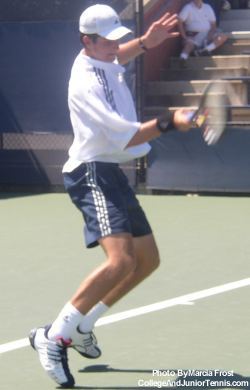 A: "At 3-3, he hit a drop shot and I was running after it and I thought my shoe would give me a litle more give, but it didn't. I got stuck -- my body was going forward and my leg was going back, I hyperextended my leg. It wasn't too bad. It didn't effect my play to a point where I was hopping on my foot. I was probably at least 90% when I went back out. It's fine today."

Q: Do you think it had anything to do with your loss?
A: "Not really, no. I didn't capitalize on any big points. I think I was three for fifteen on break points. I just didn't play the big points well. If those points had gone my way, the match would have been totally different."

Q: You were No. 1 in the 18s and 16s simultaneously for quite awhile. Do you think that was too much too soon or was it a good learning experience?
A: "I never really paid attention to the rankings. It just doesn't really mean too much. It's good to be ranked in a position where you can be seeded and maybe not have to play the top players in the first couple of rounds or so, but it you're going to do well in a tournament you are going to have to beat people anyway. Rankings have never been too high on my priority list."

Q: I know many of the (college) coaches here have been watching you. Are you going to college?
A: "I haven't made any decisions right now. I'm going to leave all my options open. I definitely won't sign in the early signing period. I'll wait until the Spring."

Q: Then you will be going to college next year?
A: "It's just all up in the air right now."

Q: Are you playing the Futures events?
A: "Yeah. I've played a couple -- two Futures, a couple of Challengers Qualifying. I played Indianapolis. I'm going to slowly start getting into more of that this Fall and next Spring."
---