Monday, January 2, 2006-Day Two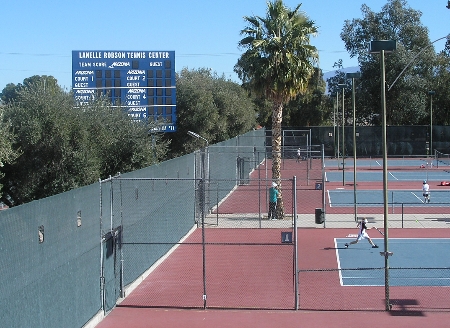 The first day of the Copper Bowl this year was just doubles. Since I was covering the end of the National Winter Championships, I decided to just skip it and start fresh with the new tournament on day one of singles. I sat looking at all the draws of the Copper Bowl with over 1,000 players in eight ages with as many locations and I didn't know where to start. I had to pick a place, so I played favorites this first day and headed to the University of Arizona to watch some of my favorite Easterners.
First up was No. 10 seeded Francine Whu (right) against Elizabeth Epstein. Francine, who is heading to William & Mary next fall, was still suffering from a minor shoulder injury she got at the previous tournament. The only way through this match was to abandoned her usual serve and volley game. With an underhand serve, she came close in the first set, but Elizabeth had some great winners and the seed couldn't fight back. She succombed 7-5, and dropped the following set 6-2. (Francine has withdrawn from the consolation to rest the shoulder.) Elizabeth continued the day on a positive note, beating Stefanie Griffin in the second round.
On the court next to the girls, was a boys 12 match between Zachary Morris and Wade Heerboth (left). I had been impressed with watching Zach play back home so I tried to catch some of the match. Though I only saw some (great) points, it was hard not to hear it all as the boys had some major arguments on the court. It was disheartening to see so much conflict in players that young. "Young" was definitely the word I'd use to describe Matthew Pearce. The tiny nine year old was quite a fixture on the court, not just because of his size, but his talent was obviously growing too. He beat Brian Balch in the first round, but fell to Daniel Milliken in the next one.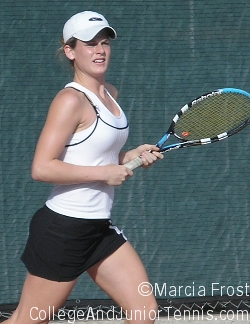 Lindsay Clark, the No. 1 doubles player in the Girls 16s who is now making her way up the 18s rankings in singles and doubles, had a good day with two out of three wins. Lindsay dismissed Caroline Mauch, 6-2,6-1, before losing a close one to Shannon Matthews, 7-5,6-4. She then teamed with fellow Easterner Stacey Lee to win a quarterfinal doubles match. Stacey was three for three today as she also won both her singles. Another New Yorker with a perfect record today was Stefana (Stevi) Petrelli (right) She won both of her singles match, the second of which I got to watch. We both agreed that it wasn't her finest tennis (a little too many "homeruns"), but there were some great points and both players remained close to the 7-5,6-3 end.
There were not a lot of upsets on this first day of singles with the exception of the Boys 18s where Blaze Schwartz defeated No. 8 Thomas Mc George, 4-6,6-2,6-3; Jorge Delgado defeated No. 14 Joshua Scholl, 4-6,6-2,6-4; Mark Oljaca defeated No. 15 Thomas McGee, 6-2,6-4; Aba Omodele-Lucien defeated No. 6 John Nanosky, 7-5,3-6,6-4; Shaun Bussert defeated No. 10 Tristan Blesecker, 6-3,7-6(8); and Andre Feliz defated No. 9 Timmy Allen, 4-6,6-2,6-4. Other than Francine Whu, other seeds to drop in the Girls 18s were No. 12 Cameron Hubbs to Chichi Scholl, 6-4,6-2; No. 7 Kristen Bleakley to Kimberly Haynes, 6-2,6-1; No. 10 Vanessa Steiner to Ryan Cutillo, 6-2,6-2; and No. 15 Amanda Martin to Tara Eckel, 6-3,6-0. There were only four upsets in the Boys 16s, Joshua Cranin over No. 14 Ryan Mayer, 6-7,6-3,6-4; Ronnie Hulewicz over No. 16 Eric Morgan, 6-4,6-4; Sklarth Balaji over No. 12 Jason Li, 6-3,2-6,6-3; and the biggest upset of the day -- Patrick Whitner over No. 2 Arya Vayghan, 6-4,6-0. No. 14 Marie Lazaris (to Haley Holt, 6-3,6-1), No. 7 Gillian Hush (to Denise Muresan, 6-2,6-0) and No. 16 Claire Cox (to Tanya Raykova, 6-1,6-2) were the only seeds to lose in the Girls 16s. In the Boys 14s No. 14 John Thornton was defeated by Travis Nellson, 7-6,7-6; No. 15 Avery Rux was defeated by Garrett Brasseaux, 6-2,6-3; and No. 16 Carlos Bermudez was defeated by Patrick Chynes, 6-3,4-6,6-4. No. 14 Carolina Berry fell to Dorothy Tang, 6-0,7-6,10-2, No. 12 Nikki Parker fell to Emma Li, 6-0,6-1, No. 13 Claudia Li fell to Angelica Simms, 6-4,2-6,6-4, and No. 3 Sara Perelman fell to Natasha Smith, 6-1,6-1 in the Girls 12s. In a tournament with so many players who have just aged up, I expected a lot more discrepency with the seeding. There were no upsets at all in the Girls 14s or the Boys 12s.
Tomorrow should be an interesting day as the main draw plays one round and I head over to the Randolph Tennis Center and the Hilton El Conquistador Racquet Club to see how they do.
Until Tomorrow,
Marcia Frost
click on a photo to enlarge
David Milliken
Elizabeth Epstein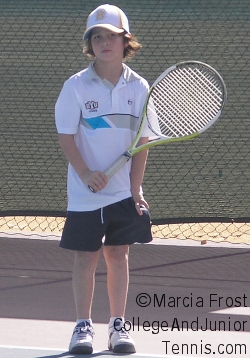 Matthew Pearce
Claire Soper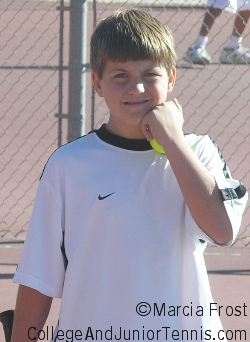 Jason Glickman
CC Sardinha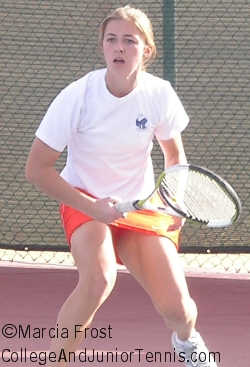 Mikay Rogers
Dylan Gust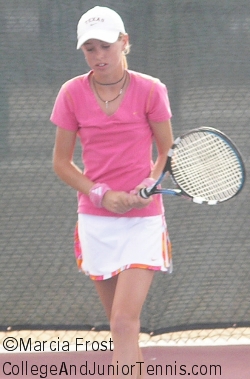 Morgan Basil
Catherine Kellner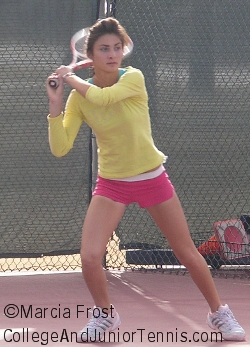 Marianna Khachatryan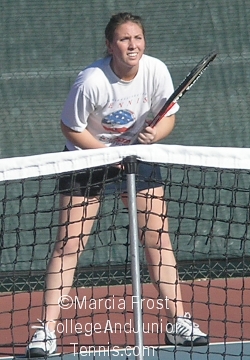 Nadia Zoubereva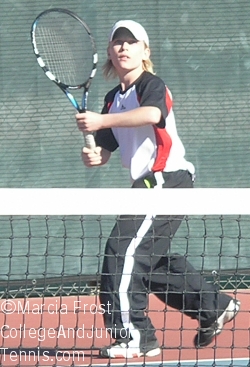 Zach Morris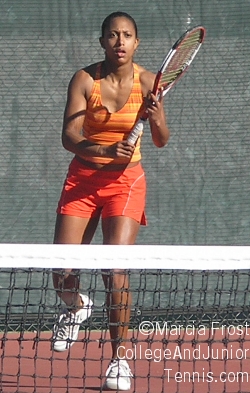 Jurelle Mosley