Thursday, January 6, 2005-Final Day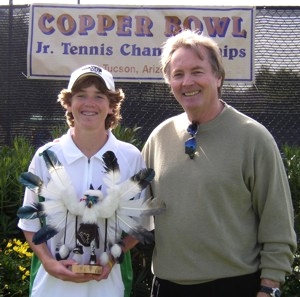 After a long week of rough weather it was bright and sunny today without a cloud in sight. Though there was quite a chill in the air, the players were ready to finish up the 2005 Copper Bowl Championships at the Hilton El Conquistador courts.
This new year is a special one for Jack Sock as he has already won two national championships. He started New Year's Day off right by taking home the gold ball at the National Winter Championships and today he added a Copper Bowl Championship to his trophy case.
Jack Sock dominated the Boys 12 division in both tournaments, but yesterday he gave the second-seeded Emmett Egger a real workout before defeating him, 6-2,6-4. I expect to see a lot more of this talented young man in the year to come.
Another dominator of the Copper Bowl was Will Gray. The University of Tulsa freshman was not seeded since he has been concentrating on college, not junior, play for the past six months. What was to be a tournament just to keep him in practice, according to his father, beame a showcase for his ability. Will ran through the draw, dropping one seeded player after another. In the final match it was Kyle Baker whom he defeated 6-1,7-5.
In the Girls 18s it was also an unseeded player who took the tournament by surprise. Maria Anisimova, who had eliminated No. 4 Maggie Yahner earlier in the day, got by a tough one against No. 10 Alison Riske, 7-5,6-4. The No. 12 Chloe Jones was a winner over Marlene Ryan in the Girls 16s, 6-3,6-2.
Kayvon Karimi worked the hardest today for his trophy. In the morning he had a long semi against Eric Lee, pulling it out 6-7(8),4-6,6-2. After a short rest he was back on the court against Ramsey Lemaich for another three-setter, 5-7,6-3,6-0.
The Boys 14s final looked much closer than the 6-4,6-2 score as No. 10 Ryan Lipman and No. 2 Joe Young had some exciting points and long games before Ryan took it. The Girls 14s and 12s were held this year at the Loews Ventana Canyon at the same time as the other finals so I was unable to see or take pictures of them. No. 8 Julia Baltas was the 14s winner over No. 2 Catherine Isip in the 14s (6-2,7-6(4)) and No. 12 Ellen Tsay won the 12s over No. 11 Grace Min, 3-6,6-3,10-6.
It may have had a rocky beginning, but in the end the Copper Bowl Championships was a showcase to some top juniors and a wonderful way to start the new year in USTA national junior tennis. I look forward to returning.
Pictured above: Boys 14s winner Ryan Lipman with Tournament Director Don Dickinson
| | |
| --- | --- |
| Will Gray & Kyle Baker | Kimberly Haynes & Laurianne Henry |
| Max Stevens & Ben Guthrie | Maria Anisimova & Alison Riske |
| Jack Sock & Emmett Egger | Maggie Yahner |
| Joe Young & Ryan Lipman | Lena Litvak |
| Jack Seider | Eric Lee |
| Daniel McCall & Shane Vinsant | Chloe Jones & Marlene Ryan |
| Kayvon Karimi | Note: The Girls 14s & 12s were played at another location so I was unable to get photos |
Until Next Year,
Marcia Frost
CLICK HERE FOR STORIES & PHOTOS FROM DAY FIVE
CLICK HERE FOR STORIES & PHOTOS FROM DAY FOUR
CLICK HERE FOR STORIES & PHOTOS FROM DAY THREE
CLICK HERE FOR STORIES & PHOTOS FROM DAY TWO
CLICK HERE FOR FULL DRAWS