Tuesday, January 4, 2005-Day Four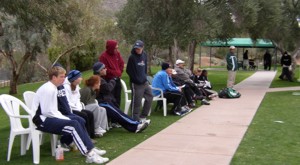 First came the wind, then the rain, and so the day went. There were a few breaks in the showers, but not enough to complete any rounds today.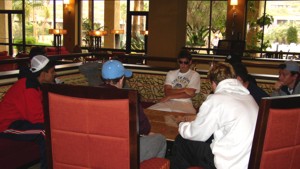 Before the sky opened, I did catch William Gray's match as he almost completed his third upset of the tournament. This time it was against the fourth-seeded Kallim Stewart. William, who wasn't seeded because he is a freshman at Tulsa University and hadn't earned a junior ranking this fall, had won the first set and was leading in the second when it was called because of the rain. I hope to see the completion of that match tomorrow, along with many others!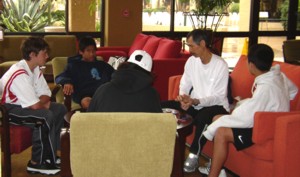 It looks like Mother Nature will cooperate on Wednesday. Though the doubles have been cancelled and the Feed-In has been shortened, there's still a lot of tennis left to be played in Tucson over the next two days.
Until Tomorrow,
Marcia Frost
pictured above (top to bottom): Spectator keeping warm at Hilton El Conquistador Court; Players played indoor games at the Hilton
CLICK HERE FOR STORIES & PHOTOS FROM DAY THREE
CLICK HERE FOR STORIES & PHOTOS FROM DAY TWO
CLICK HERE FOR FULL DRAWS
click on a photo to enlarge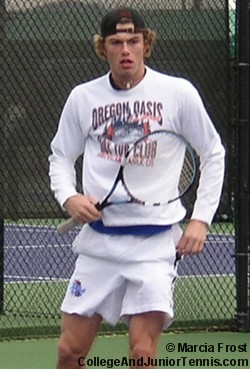 William Gray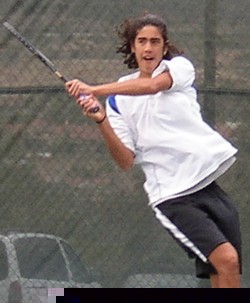 Kallim Stewart
Cassidy Mears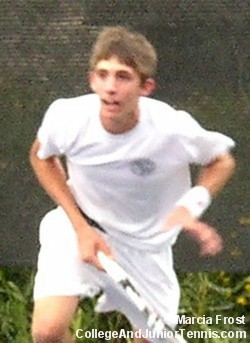 Peter Rispoti
Andrew Gest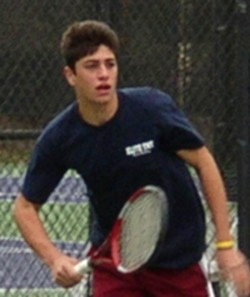 Kaynon Karim

Monthly Guides to
College Tennis Planning
Available in Kindle, Print & EBook
for H.S. Seniors
and H.S. Juniors
---
---
Return to:
College And Junior
Tennis Homepage