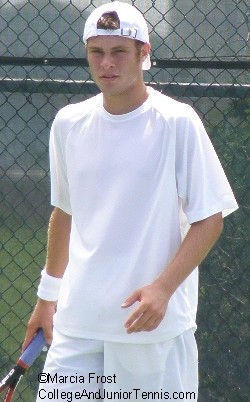 I've been watching Dennis Nevolo play at Nationals for some time now. He's got a complete games that always seems to get him into the last rounds of singles and doubles. At the USTA National Boys 18 Team Championships Dennis impressed me even more by winning all of his matches. And that wasn't even the highlight of his spectacular summer.

Illinois native Dennis Nevolo has been in the top five of the National Rankings (he's currently No. 4 in Boys' 18s) in each age division, but he's really come alive in the past two years. In the past year, he was a singles winner at the Jerry Simmons ITF in San Antonio, the Midwest Indoor Closed, the National Open in Tampa and the Illinois State High School Championships. He made the singles finals of the USTA National Spring Championships, where he and partner Bradley Klahn won the doubles (they were also doubles finalists at the International Grasscourts).

For 17 year old Dennis it would become a summer to remember. It started in June with the Grasscourts accomplishments and led into a sweep at the Boys Team event, a fourth place doubles finish at Kalamazoo (they didn't get to play for third because Bradley was injured), the doubles title at the International Hardcourts that he and Drew Daniel just missed last year, and, finally, the dream... an incredible run at the U.S. Open.
Dennis Nevolo was not even sure if he would get into the U.S. Open Junior Championships. Since it was his last opportunity to play (he has a December birthday, which would keep him from being eligible next year), the family decided to head to New York and give it a try. The gamble paid off and he just made it into the Qualifying event. Once there he made his presence known, first eliminating No. 7 Jarmere Jenkins, followed by No. 11 Ilija Vucic. And then it was on to the main draw.
The U.S. Open Junior Championships never presented an easy match for Dennis, but he hung in there and defeated Giacomo Miccini in three sets before upsetting twelfth-seeded John-Patrick Smith in another match that would go the distance. It looked like he might stir up the draw a bit more when he won the first set over No. 8 Roman Jebavy, but Dennis finally ran out of steam after nearly a week of long matches and lost it in the third.
I sat down with Dennis Nevolo after the National Team event and before his magical Open run.
by Marcia Frost