TALKING WITH... ELIZABETH KOBAK
August, 2004 continued
Q: What has been your best tournament win?
A: "I would pick two of my tournaments. I defeated Vania King at the Easter Bowl in the Round of 16. Overall the tournament was good, but I really played my full potential in that match.
The other one I would have to say is in Wimbledon. I had to qualify and I was like the last person to get into the Qualifying. Then I defeated a girl from China who was ranked like 70 ITF and I defeated a girl from Australia who was top 50. I then qualified and beat Yasmin (Schnack). I lost to a player who was top 15 (Irina Kotkina) in the world. Overall, it was a good tournament. And I lost in doubles with Tara Iyer in a three-set match."
Q: What tournament did you have the most fun at?
A: "I guess this tournament (the Girls' 18 National Hardcourts) because of the environment -- all the volunteers and the tournament directors (Andrea Norman & Jennifer Pitzen). I think they do the best to support everyone. Also, it's lovely. There is a pool right here and a gym. It's an athletic environment."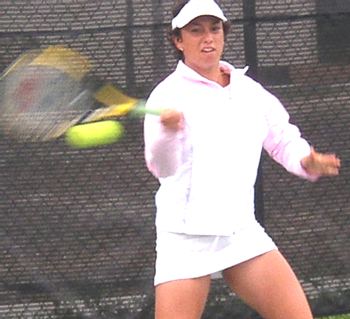 Q: What tournament haven't you played yet that you most want to?
A: "The US Open. That's the one that I'm really looking forward to. Main Draw... anything. I did get into the main draw of the juniors last year and I lost in the first round to Olena Tsutskova. It wasn't pictureesque, or something that I can look back to and say that 'I played in the US Open.' It wasn't the same energy. It was my turf (New York) and unfortunatley we had to play indoors somewhere else (because of all the rain)."
more
---