TALKING WITH... GRACE MIN
December, 2006 continued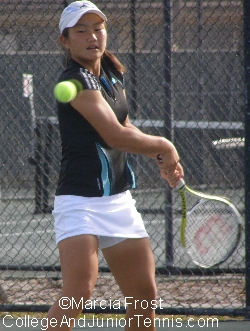 Q: How did you end up playing mixed doubles with Emmett?
A: "Bryan -- he's on of the coaches at my academy -- wanted me to play mixed. He saw Emmett hitting and I knew Emmett from other tournaments so I asked him."
Q: It looked like you were having fun out there.
A: "Yeah, a lot of fun."
Q: What has been your best win?
A: "When I was 10 years old, I was playing a 12s Naional Open for the second time and I won! I wasn't expecting to win anything. I was just playing because my mom told me to. I beat Nicole Gibbs the second round. She was the No. 1 seed. Then I played someone and then I played Lauren Herring in the semis. I still couldn't believe it. Then I played Jenny Falcone in the finals and I won the National Open!"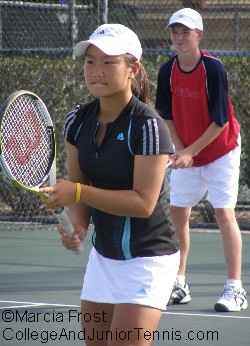 Q: What tournament did you have the most fun at?
A: "Probably Zonals. I like team events."
Q: What tournament haven't you played yet that you most want to play?
A: "La Petit. It's in France and I really want to play that."
Q: How old were you when you started playing tennis?
A: "Eight."
more
---