TALKING WITH... HOUSTON BARRICK
March, 2006
16 years old (Date of Birth: 4/7/1989)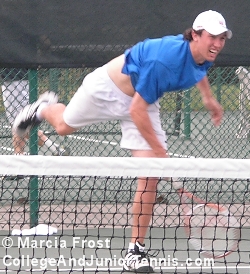 It's not often that I would use the term "Southern Gentleman" to describe a 16 year old, but that term is just perfectly fitting when it comes to Houston Barrick.
The boys 18s final of the USTA National Spring Championships was perhaps the greatest display of sportsmanship I had ever seen. In the world of U.S. junior tennis friends often have to play each other. Davey Sandgren and Houston Barrick were able to go out and both play the match of their lives while laughing and actually having fun. In the end Houston left Mobile just shy of his 17th birthday with his highest achievements to date -- a gold ball in singles and a silver in doubles (with Eric Quigley, below).
He's officially listed as J. Houston Barrick (the Houston is mom's maiden name) throughout draws and rankings, as he's made his way to the top with a number of placements in National events. In fact, just before coming to the USTA National Spring Championships, the Tennessee native won the Columbus Indoor Championships.

In 2005 Houston's name was all over the final results of national events as he began the year with a National Open singles win and doubles final; made the finals of the Peach State Classic and two more National Opens; and made quarterfinals at Kalamazoo and the National Winter Championships.
I sat down with Houston just after the singles final. He was thrilled with his accomplishments and looking toward his next goal -- playing college tennis.
by Marcia Frost
---