BIG TEN CONFERENCE DOMINATES 2004 ITA INDOOR
Story & Photos By Colette Lewis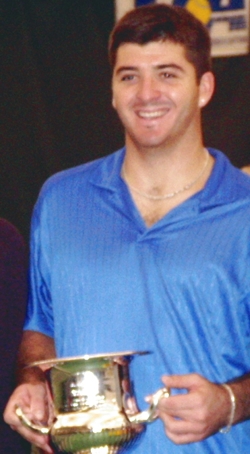 Sunday was a big day for the Big Ten at the 2004 ITA Indoor Tennis Championships at the University of Michigan's Varsity Tennis Center. The conference claimed three of the four championships -- with Illinois's Ryler DeHeart taking men's singles, Ohio State's Scott Green and Ross Wilson winning men's doubles and Northwestern's Audra Cohen and Cristelle Grier capturing the women's doubles. Miami's Megan Bradley earned the women's singles title.
Unseeded DeHeart from Illinois beat third seed Jesse Witten (pictured right) of Kentucky 6-1,6-4 to win his first major college tennis title and become the first player from Illinois to win an ITA Indoor championship. Both Witten and DeHeart are from Florida, Naples and Tampa respectively, and had faced one another outdoors in state junior tournaments. But they had not met in their college tennis careers. "I know he has a great indoor game, though" said Witten, a senior and the 2002 NCAA singles runner-up, prior to the match. "I expect him to be tough."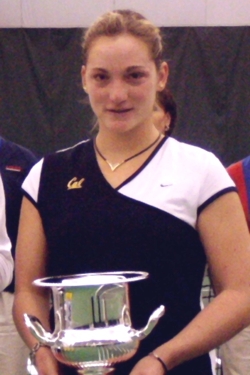 Witten proved prophetic, although the crowd was settling in for a long afternoon when the first two games featured a total of nine deuces. But DeHeart took both games and could breathe a bit easier when he again held and broke for a 4-0 lead. The second set featured just one service break, in the fifth game, but the dangerous Kentucky Blue-shod Witten conceded nothing. With DeHeart serving at 5-4, 40-15, Witten cracked a forehand winner and forced an error, then earned two break point chances to even the set. Each time, however, DeHeart collected himself, calling on his devastating lefty serve and volley game to arrive at his third match point, which he converted with a service winner.
DeHeart, a junior, credited Illinois associate head coach Brad Dancer for his recent indoor success, which includes the ITA Midwest Regional title, also played at the Varsity Tennis Center. "I've improved a lot this fall and Brad has helped me so much," DeHeart said. "We've been working on so many different things, it's good to see them pay off."
Dancer was involved in a serious automobile accident in September, less than a month after joining the Illinois staff, but his remarkable recovery was evident in Ann Arbor as he provided DeHeart with support and strategy throughout the tournament. And in the final, Dancer and DeHeart managed to come up with tactics that accomplished what previous opponents could not-neutralizing Witten's lethal forehand. "He's got a ridiculous forehand," said DeHeart, "so obviously, you stay away from that. And his backhand return is less dangerous, so I tried to pull him wide on that side."
DeHeart's tennis goal now is to get into the NCAA tournament next spring. Though part of the 2003 National Championship team at Illinois, DeHeart has not qualified for the individual tournament, and his goal is to play in both the team and individual events in 2005. "This helps, for sure," said DeHeart. "And it feels great to know that I played my best tennis at the end. I'll savor this for the next twenty minutes, and then it's back to the books and studying."
In the women's final, Miami's Megan Bradley also saved her best for last, with a 6-2, 6-2 win over California's Suzi Babos (pictured left). Seeded third, Bradley dropped only one set on her way to the title, and that was in the second round, to Sacramento State's Margarita Karnaukhova. "I finally put all the pieces together," said Bradley, the daughter of former major league baseball player Phil Bradley. "In other tournaments, there would be a piece here and a piece there, but this weekend, it all came together. I really kept my focus."
Suzi Babos, a native of Hungary, survived a tough three setter in the semifinals against Clemson's Julie Coin, but was unable to penetrate Bradley's concentration in the final. An early disagreement over a line call proved a disruption Babos was unable to overcome, and her usually effective groundstrokes were not evident against the veteran Bradley. "It was my last hurrah," said Bradley, a senior, of her final ITA Indoor. "It's nice to finish the fall season with a win."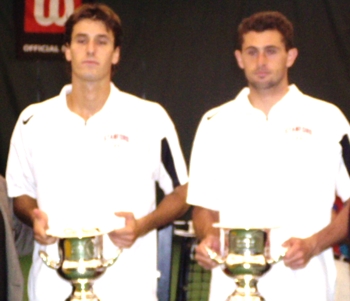 In the women's doubles, Audra Cohen and Cristelle Grier of Northwestern (pictured above right with ITA President David Benjamin) took the title by downing Stanford's Alice Barnes and Erin Burdette 8-2. Cohen and Grier were seeded one and two in singles but both suffered losses on Friday, so their sights were set on the doubles title. Grier won the 2003 ITA Indoor doubles title with Jessica Rush, but the junior welcomed freshman sensation Cohen as a partner less than a month ago. "It's a pleasure playing with her," said Grier. "We definitely have good chemistry." Cohen gave all the credit to Grier. "She's experienced on this surface and knows a lot about the other players, " said Cohen. "That's a big help to me."

Cohen and Grier did not play together at last month's Riviera All-American, so were unseeded at the Indoor, but they showcased their talent and teamwork throughout the tournament, taking out the top seeds in the first round. Barnes and Burdette, also unseeded, nearly equaled that, with their win over the second seeds in the semifinals. But in the final, Cohen and Grier dominated the Cardinal women.

Stanford's men's doubles team, 2004 NCAA champions Sam Warburg and K.C. Corkery (pictured left) were also denied a title, losing to top seeds Scott Green and Ross Wilson (pictured below right) of Ohio State 8-5.

The match was close throughout, with the only break in the sixth game. But in the abbreviated pro set format, one break is often enough, and Green and Wilson made it hold up against the second seeded team from Palo Alto.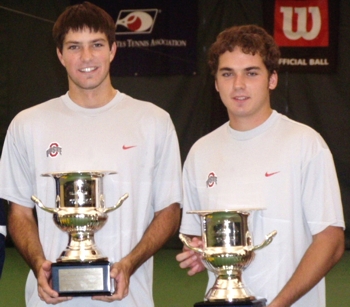 Ohio State fans are not often in evidence in Ann Arbor, but Green and Wilson drew a large support group from Columbus, including several raucous teammates who shouted out colorful nicknames along with more standard encouragement on nearly every point. The cheerleading must have bolstered Green and Wilson, last month's Icy Hot All -American champions, as they did not face even one break point in the match.

"He served amazing, " said Wilson, of his partner Green. "My serve wasn't as great, but good enough, I guess. But he was just amazing." Asked about the very vocal support they received, Green and Wilson expressed appreciation while granting that it was a bit unexpected. "It's more common in dual matches, " Green admitted, "not so much at tournaments." "But it always helps to ease the tension," Wilson added. As to whether they are now the favorites for the NCAA title, having beaten the reigning champions, Green and Wilson are not ready to make that claim. "When it's just a pro set," said Wilson, referring to the format of both ITA titles they've won, "you need to start out fast. Best of three (the NCAA format) is a little different." "But this unbelievable," said Green. "It hasn't sunk in yet."

In the consolation finals in men's singles, Stanford's K.C. Corkery beat Lars Poerschke of Baylor, 6-3,6-4. In women's singles, Alabama's Robin Stephenson beat Georgia's Shadisha Robinson 7-5,0-6,7-6(2). ITA Small College champion College of Santa Fe's Ivan Angulo Carrasco and Ricardo Omanna defeated Louisiana State's team of Mark Growcott and Ken Skupski 9-8(4) in the men's doubles consolation finals. In the women's consolation doubles, University of New Mexico's Iva Gersic and Maja Kovacek downed Yanick Dullens and Suzana Maksovic of Denver 8-4.
Monthly Guides to
College Tennis Planning
Available in Kindle & Print
Create an Amazon Wedding Registry
Return to:
College And Junior
Tennis Homepage