TALKING WITH... JESSE WITTEN
August, 2002 continued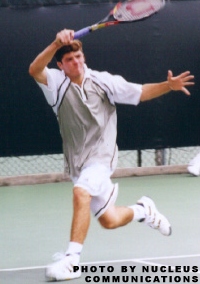 Q: What is your major in school?
A: "It's Kinesiology, with a minor in Business"
Q: Is there anything you are thinking of doing career wise other than playing tennis?
A: "I don't know. Something sports related. Maybe sports management. I haven't thought about it too much."
* * *
While Jesse went off to shower and reflect on his match, I spent a few minutes with Dennis Emery, his coach at the University of Kentucky. Coach Emery had this to say about Jesse:
"He played well this year. He played a lot of the big events this Summer. Because he's played such big events I don't think he's won as much as he's used to winning in college, but I think his game's really improving. Watching him play here, his game has gone way up. He's serving a lot better and his defensive skills are a lot better."

"He's only the third freshman in the modern era to go to the NCAA finals -- (John) McEnroe, (Cecil) Mammitt and now Jesse."
---