TALKING WITH... JESSE WITTEN
August, 2002
19 years old (Date of Birth: 10/15/1982)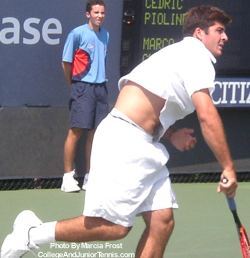 If there's one thing that can say it all about the kind of player someone is, it's the ability to sit down and do an interview after losing a match at the US Open. Jesse Witten did so with dignity and the knowledge that he had just gained a world of experience, not a first round loss.
The 2001-02 college season was an incredible one for University of Kentucky player Jesse Witten. Though it was only his freshman year, he managed to finish up as number four in the ITA National Rankings with two coveted awards -- the ITA National Rookie of the Year and the SEC Freshman of the Year. Those were not his only accomplishments. Jesse became only the third player to make it to the NCAA Singles finals as a freshman. Despite the fact that Matias Boeker was to take his second NCAA crown that day, it was still a stepping stone for the Florida youngster.
Nineteen year old Jesse Witten collected accolades as a junior as well. He was the 2001 Boys' 18 Doubles winner (with now teammate Matthew Emery) and 3rd place singles winner at the USTA Super National Clay Court Championships. He also won the singles and doubles events at the 2000 and 2001 Florida Opens, the 2000 singles at the Van Der Meer International and the USTA Super National Claycourts. In 1999, in the Boys' 16s, Jesse was a winner at the Easter Bowl and USTA National Clay Courts, a finalist at the Florida Open and placed third at the USTA National Hardcourts.
I sat down with the Jesse just after his first round loss to Edwin Kempes of the Netherlands in the US Open Qualifying. He had played a match that was tougher than the 6-2,6-4 score reflected.
by Marcia Frost
---