TALKING WITH... JESSICA KIRKLAND
September, 2002 continued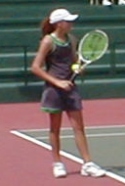 Q: What made you decide to skip the Girls' 16s?
A: "My coaches and my parents thought I was ready and would get more competition i the 18s."

Q: Where do you train?
A: "Baker Tennis Academy."

Q: Which tournament results have you been most satisfied with?
A: "I had two this year -- the Easter Bowl and the (International) Hardcourts."

Q: What tournaments are you looking to win?
A: "This -- the US Open -- and the Chanda Rubins."

Q: Are you going to play any international tournaments out of the country?
A: "Just the Slams."

Q: Do you think you will play college tennis.?
A: "No. I want to turn pro."

Q: Do you want to do that soon?
A: "When I'm ready to play with the pros."
---