TALKING WITH... JESSICA KIRKLAND
September, 2002 continued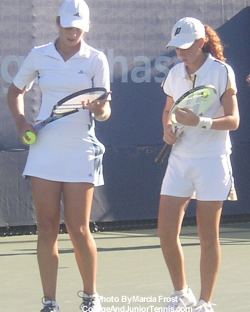 Q: How did you choose Alexandra Mueller as a doubles partner?
A: "I've played with her before. We did really good in ITF tournaments. We got to the quarters. She's a really good player."
Q: When you came here (the US Open) to play doubles did you come for fun and experience or did you think you had a chance to win?
A: "I try to get a lot of experience so I will be better next year."
Q: Do your parents play tennis?
A: "Yeah, they do. My whole family plays tennis."
Q: Do any of them play to compete?
A: "My older sister plays college tennis."
* * *
---