TALKING WITH JUNIOR TENNIS PLAYER JESSICA KIRKLAND
TALKING WITH... JESSICA KIRKLAND
September, 2002
14 years old (Date of Birth: 11/10/1987)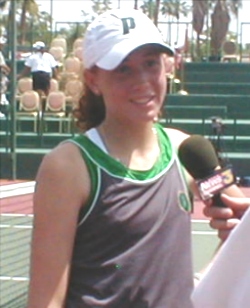 At this year's Easter Bowl, the talk was all about Jessica Kirkland. The fourteen year old upset the No. 5 seed, Theresa Logar, to take the Girls' 18s title, 6-4,6-1. Everyone wondered where this petite powerhouse had come from, but she had been around all along. She just wasn't getting noticed playing her own age group.
After Jessica Kirkland had won the USTA Super National Winter Championships, the Gamma Championships and the Franklin Winter Championships in the 14s, she made the jump straight into the 18-and-under age group. Many would have balked at her guts, but the move paid off.
In 2002 Jessica took the Girls' 18s by storm. She was a finalist at the Franklin Winter Championships and a semifinalist at the Costa Rican Bowl before her Easter Bowl win. She then went on to win the Peach State Classic and the USTA International Hardcourts (singles and doubles) as well as reaching the singles and double semis at two Canadian international events.
I sat down with Jessica at the US Open where she had teamed with Alexandra Mueller to reach the doubles quarterfinals of the Junior Championships after defeating the top-seeded team of Kristen Schlukebir and Tanner Cochran. I was amazed at just how confident this young teen was.
by Marcia Frost
Q: What happened this year. You made a jump from winning Girls' 14 tournaments to winning Girls' 18s with no breaks in between. What do you attribute that to?
A: "I started home school this year. I've been practising a ton and playing more tournaments because I'm now home-schooled."
---