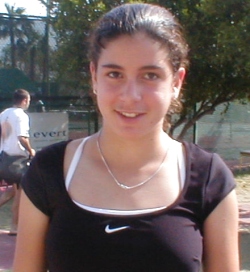 I sat down with Josh & Julia at the Easter Bowl. Both players are right at home at tournaments as their proud mom stands by. They are as devoted to junior tennis as they are to each other.
by Marcia Frost
* * *
Q: As No. 1 in the Girls' 12s for the past year, is it a lot of pressure in the 14s?
Julia: "No pressure. I thought I would do well here (at the Easter Bowl) and I did. I made it to the semis and then got third place."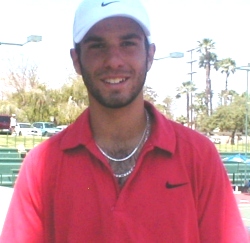 Q: What were you expecting coming into this tournament?
Josh: "Obviously, I was hoping to win. I'm a little disappointed, but I still got 4th place."
Q: What tournament do you remember as the most exciting?
Julia: "The Banana Bowl. I like playing international."
Q: A year and a half ago, you came to Port Washington and won your first international tournament. How did that change your focus?
Josh: "It was unbelievable. It gave me a lot of confidence. After that I made two (ITF) semis in Venezuela and Chile, but I got tendinitis during the Banana Bowl."