Marcel Felder of Uruguay and Matea Mezak of Croatia took home the singles trophies at this year's Coffee Bowl. It was a second Coffee Bowl trophy for Matea, who had won the event in 2000 at the age of 14. The boys doubles went to Rafael Abreu of Venezuela and Stephen Amritraj of the USA. Singles finalist Silvana Bauer teamed up with fellow Netherlands player Elise Tamaela for the girls doubles.

* * *
Various Mid-Atlantic Section Challengers were held this past month. In the 18s, Brent Waikart knocked off three higher-seeded players to win the boys. No. 1 seed Heather Reynolds finished the girls event without losing a set. At the Boys' 16s, Michael Shabaz was the winner over Gary Simonette, 6-3,6-2. Top-seeded Zachary Watson and unseeded Maria Mokh won the titles at the 14-and-under Challenger while Venkat Iyer and Alexandra Rice took the 12s.

* * *
At the Nicolas Macchiavello Almeida Cup in Ecuador, hometown favorite Martin Stiegwardt took the singles title with a tight 6-7(5),7-6(5),6-4 win over Guy Thomas of Great Britain. Guy then paired with David Brewer for the doubles. In the girls' draw, Canada's Beir Ko took the title with a win over Croatia's Nika Ozegovic, 6-3,6-4. Mariana Correa and Marnie Mahler were the girls doubles winners.

* * *
Ryan Henry used the homecourt advantage to a win at the Australian Hardcourt Championships after defeating Robin Soderling of Sweden in the final, 5-7,7-5,6-2. Robin did, however, take the doubles with partner Philip Petzschner. Myriam Casanova of Switzerland took home the girls' singles after eliminating unseeded Maria Sharapova of Russia, 6-1,6-4. Unfortunately, Myriam did not make it a sweep when she lost in the doubles final (with sister Daniela) against Elke Clijsters and Tatiana Golovin.

* * *
The following changes have been made in the ITF Junior Circuit Rules:
The Withdrawal Deadline is now 14 days prior to the scheduled start of the main draw;
Special Exempt positions will now be available to singles and/or doubles players who are unable to appear in qualifying because they are competing in another "qualified" tournament. The Tournament Committee will allocate Special Exempt positions and shall be the final authority in this instance;
Ranking Point changes have been made as follows: Grand Slam winners now receive 250 points for singles and 180 for doubles; Qualifiers losing in the first round of the main draw will receive 25 ranking points; and Players losing in the final round of qualifying will receive 20 ranking points.
For clarification of any of these changes, contact juniors@itftennis.com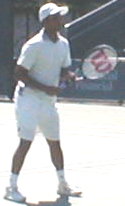 Stephen Amritraj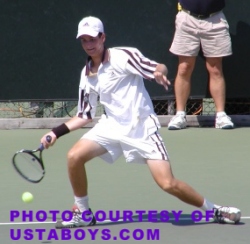 Brian Baker