The ITF confirmed its 2001 World Junior Champions. Gilles Muller became the first ITF World Champion from Luxembourg. Gilles was the winner at the US Open Junior Championships, the Banana Bowl and the Asuncion Bowl, and a finalist at the junior events at the Italian Open and Wimbledon.
Russia's Svetlana Kuznetsova was named the Girls Singles World Champion. Sixteen-year-old Svetlana led her team to victory at the Connolly Continental Cup. She was also a winner at the Banana Bowl and a runner-up at the Orange Bowl, French Open Junior Championships and US Open Junior Championships.
Bruno Echagaray & Santiago Gonzalez, who captured 17 titles on the ITF Junior Circuit, were named Doubles Champions. Petra Cetkovska became the Girls Doubles Champion with six titles this year, two of which were Grand Slams (Australian & Roland Garros).

* * *
The Christine O'Reilly Memorial Holiday Championships were held over the holidays at the Center Court Tennis Club in Chatham, New Jersey. The following matches were played in the finals:
Boys' 12-Haig Schneiderman defeated Nick Tagliarinno, 6-0,6-3
Boys' 14-Calvin Chou defeated Kevin Walsh, 6-1,6-0
Boys' 16-Derek Danziger defeated Christian Husby, 6-4,6-2
Boys' 18-Gal Horovits defeated Andrew Husby, 6-4,6-4
Girls' 12-Stacey Lopez defeated Jocelyn Friend, 6-2,6-2
Girls 14-Ana Mungo defeated Maria Anisimova, 6-3,4-0 retired/injured
Girls' 16-Lauren Cash defeated Dominique Ligouri, 6-2,6-2
Girls' 18-Alina Balasa defeated Gabrielle Pasternmak, 6-3,6-3

* * *
In addition to the Orange Bowl Championships, Vera Zvonareva added a title at the Yucatan Cup to her December wins. Vera defeated Barbora Strycova in the finals, 6-3,5-7,6-2. Brian Dabul was the boys singles winner with a 7-6(8),6-3 win over unseeded Mathieu Montcourt. Doubles trophies went to Bruno Echagaray/Santiago Gonzalez and Maria-Jose Argeri/Salome Devidze.

* * *
Marie-Gaiane Mikaelian (G18), Yordan Kanev (B18), Alisa Kleibanova (G16), Aliaksandr Shrypko (B16), Yu Qing (G14), Clancy Shields (B14), Liu Wan-Ting (G12) and Sheharyar Wali (B12) took the singles events at the Prince Cup in Miami, Florida, the first week of December.

* * *
Scholarships are available for the men's and women's teams at Samford University. Those interested in playing next season should contact Coach Glen Fanelli at (205) 726-2592, FanelTenis@aol.com. His FAX number is 205-726-2132.
---
If you have information to be included in Junior News
Contact Us: E-Mail: Marcia@MarciaFrost.com
FAX: (516) 796-2854
Gilles Muller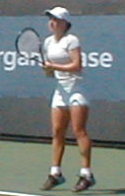 Svetlana Kuznetsova
Bruno Echagaray
Ana Mungo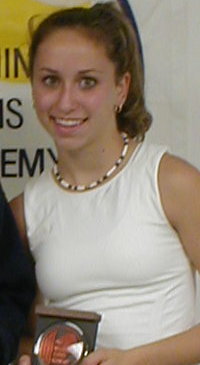 Lauren Cash