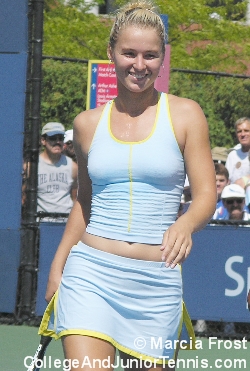 There are some players who slip through the juniors with great results, even making the top of the rankings, but don't get a lot of recognition because they haven't won any national singles titles. Kristi Miller definitely fits that mold. Despite making it as high as No. 10 in the country, Kristi was not well known as a junior player, but she's certainly making up for it in college.
It was at the 2005 US Open that I first "discovered" this great player who had been right there all along. The 19 year old Michigan native was the lone college player at the Open this year as she played doubles with recent University of Miami grad Megan Bradley. The two, who had also played a few weeks prior at the GHI Bronx Classic and made it to the quarterfinals, won their first round match. Though they lost in the next round (to Corina Morariu and Patty Schnyder), the performance was impressive enough for many to take notice of this player who had been so great all along.
The resume of this Georgia Tech sophomore is actually quite impressive -- especially in doubles. Her trophies include the top prize at the Girls' 18 National Claycourts and a Girls' 16 National Open, as well as a 4th place winner at the Girls' 16 Claycourts and a 2nd place finish in a $10,000 circuit event this summer. She also placed in many other national junior events, earning a No. 56 Ranking in the 14s, No. 10 in the 16s and No. 13 in the 18s.
Since arriving at Georgia Tech, Kristi Miller has really become a player to watch. In her freshman year she became the first All-American in Georgia Tech women's tennis history. She also earned All-Conference and ACC Rookie of the Year honors. In addition, she was named the 2005 ITA South Region Rookie of the Year. Kristi Miller now owns the Georgia Tech record for the most singles and doubles wins in a single season. And the accolades and records go on and on.
In the first national event of the 2005-06 college tennis season, the Riviera All-American Championships, Kristi Miller made it to the quarterfinals. She topped that at the second major by making the semis at the ITA Indoors. It was after that match when I sat down to talk with Georgia Tech's star.
by Marcia Frost