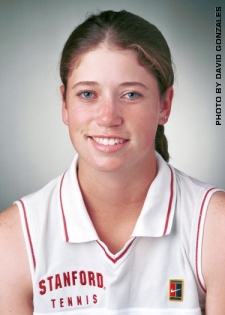 Q: Did you feel a lot of pressure to break the record?
A: I am really glad it is over with. I was really trying to focus on the team winning.
Q: How was it having Patty Fendick-McCain there when you did pass her winning streak?
A: I'm happy she was there. I have so much respect for Patty. (Patty -- pictured below --- was also at Stanford when she went undefeated for 57 matches.)
Q: Last year you won the NCAA Singles Championships as a Freshman. Are you looking toward this year's NCAAs?

A: It's only three months away and we are starting to train. It is obviously in the back of our minds. I am thinking about them (the NCAAs) as a team, how the team does is important to me. It was difficult to lose last year in the finals.
Q: How is school going outside the tennis court?
A: I haven't decided on a major yet. I'm just taking classes I find interesting and enjoy. I have no immediate career goals beyond tennis.
Laura ended our conversation as it began -- explaining how important it is for her to be looked at as part of the No. 1 team in college tennis:
"Our team is really united this year. We have a lot of fun. The freshman have adjusted well."
It was just last year that Laura Granville was a freshman. Despite her record breaking wins, she has maintained her team spirit.